On The McCarthys Season 1 Episode 5, we meet Katrina, Gerard's ex, who he gets back together with, much to the dismay of the rest of the McCarthy family. 
We've all had a Katrina in our lives as some point, right? Whether it's a family member's significant other or a friend's spouse, you've probably known that person who never has anything nice to say and you can't, for the life of it, figure out how your loved one is with them. You don't have to name any names, but it feels good to nod your head in agreement, right?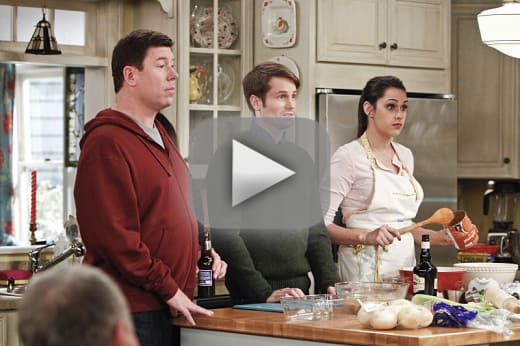 Katrina was the absolute worst. Her over-the-top dislike for the McCarthy clan was annoying and made me want to slap some sense into Gerard (and, well, just slap Katrina). She offered insult after insult, which isn't anything new for the McCarthy clan, but she was clearly in a league of her own. I couldn't find a single redeeming quality in her, and she even mentioned my favorite Presidential family, the Kennedys!
As the McCarthys made plans for Thanksgiving, Katrina went on about how she didn't have anywhere to be (surprise, surprise) and, after some awkward silence, Ronnie invited her to Thanksgiving. It went downhill from there for Ronnie, who later met up with Gerard to convince him to un-invite Katrina, but inadvertently talked Gerard into proposing to her at dinner. 
The McCarthy family tried hard to stall Gerard, but ultimately he dropped down on one knee and proposed. After Katrina gave Gerard a harsh "pass" (that has to be the worst way to turn down a proposal), the McCarthy clan came to Gerard's defense, citing how great of a guy he is and how any girl would be lucky to have him. 
That's the McCarthy family I've come to enjoy! Unfortunately for everyone, their words convinced Katrina to change her mind and the episode wrapped up with Katrina and Gerard engaged, and headed out to do some Black Friday shopping. I'm guessing that means we are all going to have to suffer through another episode with her at some point. Sigh. 
All in all, the episode made me laugh and the show continues to be relatable, even if it is a little over the top. Tonight's episode also made me so very thankful, on Thanksgiving night, that my sister-in-laws are wonderful, wonderful people. 
Other quick thoughts:
Arthur McCarthy is just adorable. 
How far along do we think Jackie is in her pregnancy? She had on an incredibly tight and short skirt, and doesn't seem to be showing at all yet.
I'm sure Ronnie's stuffing is good and all, but my Mom's is still the best. 
Still in a turkey coma and missed Thursday night comedy on CBS? Don't forget you can watch The McCarthys online and decide for yourself just how horrible Katrina was. 
So how did tonight's installment stack up for you? Which McCarthy family member would you like around your Thanksgiving table? 
Sound off in the comments below. 
I hope all our TV Fanatics out there had a wonderful Thanksgiving.
In the words of, Arthur McCarthy:
You gotta love Thanksgiving! Family, food and football!

Arthur
Krystal Sondel is a staff writer for TV Fanatic. Follow her on Twitter.