The Real Housewives of Beverly Hills Season 5 Episode 2 Review: Who Stalked J.R.?

Christine Orlando at . Updated at .
From apologies to stalking, Brandi Glanville ran the gamut on The Real Housewives of Beverly Hills Season 5 Episode 2 and we recap all the antics in our +/- review.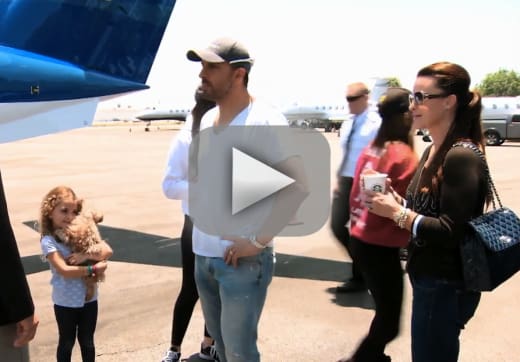 Yes, that's Brandi and Kim Richards dressed in disguise in order to stalk Brandi's on again / off again boyfriend JR and the flaws in their plan were glaringly obvious to everyone but them. 
First off, why were they hiding in the bushes if they were dressed in disguise. Shouldn't the wigs and sunglasses mean they don't have to duck under the folliage? Minus 10. 
Second, Brandi already knows JR is cheating on her. The guy actually admitted it with some lame line about being in love with Brandi but being in love with the other woman as well. Why go to all this trouble to actually see him at a restaurant with her. Minus 21.
Lastly, dump the jerk! Brandi was cheated on by her husband. Why is she putting up with this crap from JR? Instead of following him around like some obsessed teenager, Brandi should be blocking his number from her phone and not giving him her forwarding address. Minus 50!
But stalking wasn't the only thing on Brandi's agenda. She also had an apology to deliver...two years after the fact. Hey, better late than never. Plus 22.
Things had gotten so nasty between Brandi and Adrienne Maloof that it's hard to remember who said what at this point but at least they're both willing to move on. 
Plus 30 bonus points to Adrienne for noticing that Brandi's still blaming Lisa Vanderpump for influencing her bad behavior. If Brandi believes what she did was wrong, she needs to own it and move on. 
As for Lisa, she's not interested in resuming a friendship with Brandi and I can't say I blame her. Brandi turned on her and that's not something Lisa's ever going to forget. 
One question, though...why is Lisa's Pomeranian pink?
Elsewhere, Kyle Richards and her family were hoping a private plane for a family vacation to Lake Tahoe. Kyle shared that back when she and Mauricio were broke, she used to make her kids lie at airports and say that they were two when they were actually four so that should wouldn't have to pay for an additional seat on the plane.
Minus 18 because even though Kyle wasn't private plane rich back then, I don't think she's ever known what it's like to get anywhere close to being poor.
Lisa Rinna had a meeting with her agent and shared that there really isn't a job that she's turned down and for all of those people who were aghast at her Depends commercial, her's her The Real Housewives of Beverly Hills quote...
That Depends job saved our bacon. I got paid more money to do that than I've got paid to do anything ever in my life and I was just like winking all the way to the bank.

Lisa Rinna
Yup, this Housewife is laughing all the way to the bank. Plus 13. 
Yolanda was definitely feeling better after battling her Lyme disease, so much so that she met David at the door with dinner and wearing some sexy lingerie. And not that Yolanda didn't look gorgeous but I could look at the view of the ocean from her terrace all day. Plus 25. That's defnitely what being a Housewife of Beverly Hills is all about.
Episode total = -9! Season total = +30!
Don't forget, you can watch The Real Housewives of Beverly Hills online right here at TV Fanatic. 
C. Orlando is a TV Fanatic Staff Writer. Follow her on Twitter.