The Simpsons Season 26 Episode 7 Review: Blazed and Confused

Stacy Glanzman at . Updated at .
Ever since Marcia Wallace passed away, I wondered if and when The Simpsons would introduce a new teacher for Bart. The Simpsons Season 26 Episode 7 did just that, but Mr. Lassen didn't last past the episode. 
Will there be a permanent replacement for Mrs. Krabappel this season or is the show not ready for that quite yet?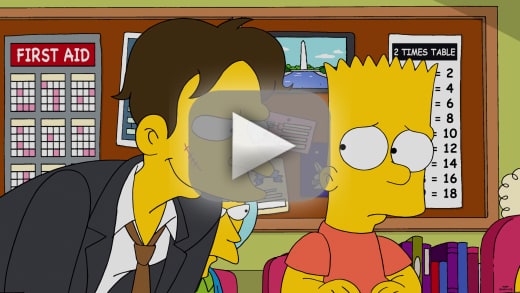 Marge, I love you, but after all this time you should know better than to trust Homer to make reservations for anything, let alone something one year in advance. Also, it might have been a good idea to confirm with him more than a few days before the trip! 
But, this is The Simpsons, so logic doesn't apply and the family is left without a campsite for Labor Day weekend. I know The Simpsons doesn't follow any timeline, but we did just have a Halloween episode, so I thought it was a little odd that it was Labor Day.
Homer's ineptitude worked out perfectly for Bart. He manages to kill two birds with one stone by solving Homer's campsite dilemma and plotting his revenge against Mr. Lassen at the same time.
I think Bart might be getting smarter. Planting the camera in the teacher's lounge, creating the fake profile for Ms. Hoover, and then using flame retardant on "The Blazing Guy" were brilliant ideas. He had help from Millhouse, but usually he enlists Lisa's assistance for missions like this. 
It was funny seeing Nelson put in his place. It really is surprising no one has come up with the nickname "Smelson" before now. The bully became the bullied and now Nelson knows how it feels to have his lunch money stolen. 
What was in Marge's tea? Did that lady spike it with a Guatemalan Insanity Pepper? How awesome was it that Homer's coyote made a cameo in her hallucination? "The Mysterious Voyage of Homer" is one of my favorite episodes of "The Simpsons," so I appreciated that they threw that in there. 
The power plant being on fire was a little random and unnecessary, but I guess it fit with the overall "blazing" theme. 
Superintendent Chalmers: According to this file from Blazing Guy's secret security, your behavior was so egregious we can do something that we've never done before - fire a teacher.
Principal Skinner: Hand in your red pen...oh, I'm not gonna pass fingernail inspection tonight.
Superintendent Chalmers' quote isn't quite accurate. Bart got Mrs. Krabappel fired back in The Simpsons Season 21 Episode 2 when he spiked her coffee with booze. Granted she gets her job back, but she was still fired. 
The final scene was the funniest. I love when Kelsey Grammer's Sideshow Bob shows up unexpectedly. This is his second appearance of the season and I had no idea either were coming. Bart better be careful, he now has two mortal enemies plotting against him. 
What did you guys think? Is it time for Bart to get a new teacher? Marcia Wallace and Edna Krabappel are irreplaceable, but so much of the show's plots involve the school that it'll most likely happen eventually. Maybe we'll get a few more "one and dones" in the meantime. 
Don't forget you can watch The Simpsons online and relive your favorite moments or check out The Simpsons quotes page for your favorite lines. 
Stacy Glanzman was a staff writer for TV Fanatic. She retired in March, 2019.