The Simpsons Season 26 Episode 8 Review: Covercraft
Paul Dailly at . Updated at .
Sound waves haunted the residents of Springfield on The Simpsons Season 26 Episode 8.
Sounds crazy, right?
Even after 26 seasons, The Simpsons is still chugging along. That's not a bad thing. We were treated to an average episode with some good one liners.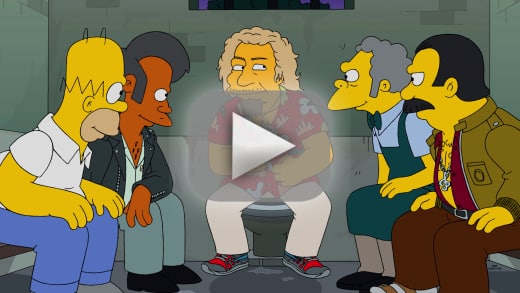 Moe and Toot at each others throat was the highlight. I was a bit disappointed that it was all said and done within a few minutes. It would have been great to see these two fighting before and after every ad break. It's not often you get to see a cartoon character locked in a tanning bed. 
You call that a left testicle, Toot?

Mo
A father and daughter visit to the music store made Homer realize something was missing from his life, so he became a musician and purchased a bass guitar and everything he needed to make his own garage band. The store clerk sure knew how to manipulate the customer before going in with the sales pitch. He must have earned a lot of commission from that transaction. 
Oh no, King Toots is closed. Dad, you're going to have to take me to the big Fox music store.

Lisa
Homer was really good at the bass. I chuckled several times when the sound waves distorted everything and made objects defy the laws of gravity. My main gripe with this storyline is that we never got to see him perform with Lisa. That would have been nice! I must comment on how much Homer enjoyed his new toy. He enjoyed it that much he didn't want to share his success with anyone, not even his friends. 
I don't have what it takes to play the guitar.

Homer
When the family sat down to watch the game show, it was all laughter. This may well be the funniest family on TV. Lisa likes to prove people wrong, so it was nice that Homer was right for once. 
Homer: What I feel is envy.
Lisa: Wow! He's right.
The spotlight got to shine on Apu. After working in the Kwik E mart for far too long, we got to see new layers to his character. Upon joining Homer's garage band, Covercraft, he opened his mouth to sing and my jaw hit the floor. His voice was excellent. I don't think I was the only one who guessed there would be strings attached to his gig with the band Sungazer. 
The poor man was miserable. Everyone was thinking that just because he was famous he was happy. It drove the point home that being famous doesn't make you happy. Homer was blatantly jealous of him and was set to destroy his apparent happiness, but upon witnessing the way Apu was being treated, Homer harnessed the negative energy into getting revenge on Sungazer. I won't ever be buying a hot dog from the Kwik E Mart!
"Covercraft" was a short and sweet affair, much like the band. It had everything you'd expect from an episode of the show. A lot of the jokes fell flat, but the ones that didn't were really funny. I'd like to see a lot more of Apu going forward. 
Don't forger you can watch The Simpsons online, right here on TV Fanatic!Go on tour with Apu now!
Paul Dailly is the Associate Editor for TV Fanatic. Follow him on Twitter.