The Vampire Diaries Round Table: Does Delena Have a Chance?
Leigh Raines at .
Poor Damon Salvatore had a very unhappy homecoming on The Vampire Diaries Season 6 Episode 6. He clawed his way out of 1994 witch purgatory to get back to his love Elena... only to find out she had her memories of him erased!
Talk about disappointment! Join TV Fanatic staffers Miranda Wicker and Leigh Raines, along with Heather Vee (co-author of Love You to Death), as we break down Damon's return and other ongoing drama: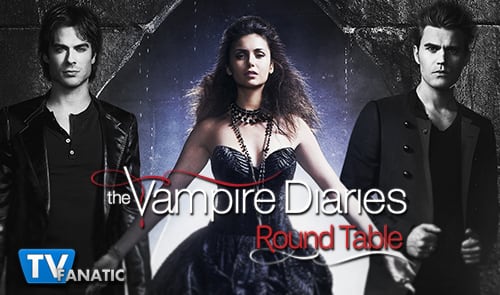 What was your favorite scene or quote from the episode?
Miranda: Damon and Ric! The bromance lives! I'm so glad to have the two of them back together again.
Heather: When Alaric firmly told Damon that he'd restore Elena's memories if she wanted them restored. No matter how frustrating the situation is, I love that he underscored Elena's agency in that moment, especially since the Salvatore brothers have often walked all over Elena's wishes.
Leigh: Damon calling Bonnie's voicemail. I've enjoyed them bonding these past few episodes. Like last week when they admitted that being stuck with each other wasn't the worst thing. 
Is Stefan completely redeemed now for this season's previous behavior?
Miranda: No? I think no. He gave up. Ric gave up. Damon never would've given up on either of them. Sure, Stefan saved Enzo and nearly killed himself in the process, but maybe a little more groveling for the way he's handled Caroline and then all will be forgiven.
Heather: Not even close, and I think Caroline's anger is completely justified. 
Leigh: For me, pretty much. EXCEPT with Caroline. But saving Damon and Enzo was immensely brave. I think that all of these characters are pretty flawed and screw up a lot. This was Stefan's way of dealing with the pain. Does he really not realize that Caroline wants him though? HELLO!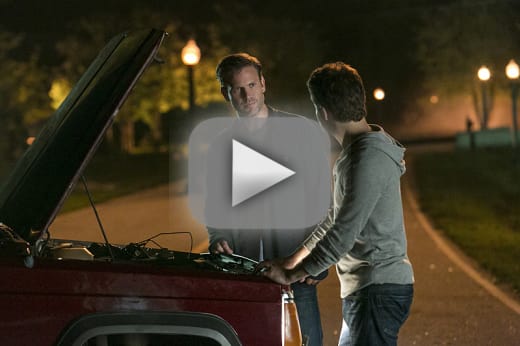 Do you agree with how Caroline is handling their friendship?
Miranda: She wants more than friendship with Stefan, so yes, I think she's managing as best she can knowing his feelings aren't reciprocal. 
Heather: Again, her anger is justified. It's up to Stefan to rebuild that bridge and it would be regardless of Caroline's "more than friendship" feelings. 
Leigh: She's justified in being mad. But I also think that she should own up to her feelings and take that chance if she wants him to see her differently. Maybe Stefan just needs a good kick in the ass!
How do you feel about Alaric being human and Jo being a witch?
Miranda: Total cop-out. Also nonsense crap and I hate it. Yes, we know Tyler returned to human form (but really, he should have died because he had to die to become a hybrid) so it was theoretically possible, but why not just take a doctor and a vampire inside the Mystic Falls border and un-vampire everyone now? This was dumb. I do like Jo being a witch though. 
Heather: I have to agree with Miranda that it's a bit of a cop-out, though I much prefer a human Ric. I'm just unclear on the rules surrounding the entire situation. As for Jo, I'm reserving judgment because there has to be a story there. Isn't there always? 
Leigh: There are so many holes in this storyline, but whatever. It's TVD. Will he go back to being a vampire once he crosses back over the border? In general, I think Alaric hated being a vampire so much that it made him mopey and not as fun as human Alaric. I'm okay with it. As for Jo, I think she's related to Kai, I think she's the sister he left alive.
Delena is back. Does Damon have a shot still?
Miranda: Of course he does! One kiss from Damon and all those feelings will come rushing back in, but it would be equally as great to see him woo her.
Heather: I'm guessing so, but I'll be disappointed if it's easy.
Leigh: Obviously, but I'm interested in seeing how he plays it. Will he go cocky and confident or good guy and sweetheart. Also didn't Nina Dobrev allegedly request for less Delena scenes? 
What was Bonnie doing this week?
Miranda: Recovering from her wounds and trying not to make out with Kai. Those two have some chemistry, and since Jeremy has spent the last four months drowning his sorrows in booze and girls, Bonnie gets AT LEAST a go or two with someone else.
Heather: Dunno, but I want her back. It's amazing how much I missed the 1994 shenanigans in this episode, especially the Bonnie and Damon dynamic. It's been my favorite aspects of this season so far.
Leigh: Patching up that nasty wound Kai gave her and searching the Grymwar. I have no idea how to spell that by the way. Or she's packing up all of her 90s clothes because they're trendy again and jamming out to a great year of tunes.
Here is your first look at The Vampire Diaries Season 6 Episode 7: