Arrow Season 3 Episode 8 Review: The Brave and the Bold
Carissa Pavlica at . Updated at .
Was the second part of the crossover event as good as The Flash Season 1 Episode 8, "Flash vs. Arrow"?
No, Arrow Season 3 Episode 8 didn't live up to the first hour, but it did pretty much as expected – showed The Flash team dealing with criminals can be a mean business and allowed Barry to give Oliver a much needed pep talk about his humanity.
It's no secret Oliver Queen has been losing more and more of himself the longer he's away from the island. Despite numerous tries to find a place where he isn't all darkness, he hasn't been able to see the light. His new friend, Barry Allen, sees that light. It's not in Arrow (he's a douche), but in Oliver Queen, who still breathes with life despite thinking he's lost himself under the hood.
Oliver shares some of the dark cloud in "The Brave and the Bold" with Lyla, who has received similar training to what Oliver went through in Hong Kong if their recitation of one Amanda Waller's lessons is any indication.
There are people in this world who deal only in extremes. It's naive to think that anything less than extreme measures will stop them.

Amanda
Having The Flash team nearby not only shows them how easy they have it dealing with metahumans, but shows Team Arrow it's OK to lighten up a little and enjoy the brightness they do have surrounding them, because they have each other, among other things.
Roy: It's cool. You guys are fun.
Cisco: So are you guys. Well, you could be if you realized you're working under a night club.
Cisco was one of my least favorite characters when The Flash began, but his attitude is infectious. He plays the same role with in the Arrow Cave as he does in STAR Labs. He keeps things light and fresh despite how dismal what they need to do can become.
The foursome of Roy, Felicity, Caitlin and Cisco drives home how young the teams are and how much story can be developed as a result. It's easy to imagine any metahuman origin story of Cisco's taking as long as it has for us to get our first inside look at Felicity and for the Black Canary to emerge from the once stricken Laurel. In due time.
Because Lyla was in the forefront, we finally had an opportunity to see more of them as a couple.
Lyla: You only call me sweetie when you want something.
Diggle: Is it working?
It's been difficult to imagine them in their personal lives with the small doses we're given to work with, but who knows, maybe we'll get to see a wedding to really liven up the joint.
Knowing the darkness and the training Oliver and Lyla endured under the tutelage of Amanda is difficult to handle. Amanda is a dark woman and it's unlikely we'll see her shining light anytime soon. Yet what she does is needed, as witnessed in the Hong Kong flashback. Oliver's inability to push through and inflict pain cost many people their lives. That's a terrible burden to bear and makes the idea of torturing one bad man seem a little more palatable, even if we can't help but wish there was a world in which it wasn't necessary.
Oliver's support team is what will get him though the rough times and there's no doubt there will continue to be dark and rough times. Heck, we still don't know who killed Sarah and nobody has any idea Ra's al Ghul is on the horizon.
With the newly formed friendships of all and their support of their respective superheroes, it feels like a new beginning for both teams. Arrow and friends are always welcome in Central City and now Barry has his own glass showcase for The Flash suit in the Arrow Cave. In return for their hospitality, Cisco created a new special polymer ensemble for Oliver so he can carry more gear and less weight.
Hey! You don't think we forgot about who wins, do you? The guys did a little of their own Tale of the Tape before hitting it hard.
Oliver: You can't expect me to believe that you don't want to know once and for all who would win -- me or you.
Barry: You mean if you don't shoot me in the back?
Oliver: You gotta get over that, Barry.
Barry: OK. I have super powers. You have arrows. That run out.
Oliver: I have strategy and tactical awareness.
Barry: When I'm fighting you, it's literally like you're standing still.
Oliver: It's tough talk, you ready to back it up?
Barry: Oh yeah.
You really didn't think they would show you who won, did you? I like to think their final clash ended in a giant bear hug. They love each other and know what it's like to be responsible for the lives of others; those they care about and those who reside in their beloved cities. 
Hit the comments for thoughts on part two and remember, you can watch Arrow online via TV Fanatic any time if you need to catch up!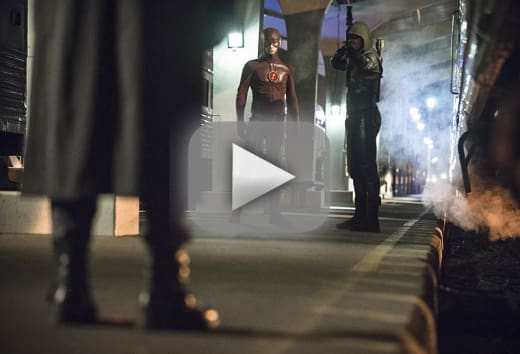 Here is your first look ahead to Arrow Season 3 Episode 9:
Carissa Pavlica is the managing editor and a staff writer for TV Fanatic. She's a member of the Critic's Choice Association, enjoys mentoring writers, cats, and passionately discussing the nuances of television and film. Follow her on Twitter and email her here at TV Fanatic.