It was Christmas time at the Castle loft and Kate was still adjusting to being one of the family. LIttle did she know that the Castle family celebrated the holiday with a poetry competition. Kate's response? What rhymes with I'm screwed?
But there was a murder to solve on Castle Season 7 Episode 10 as an ER doctor was shot and killed by Santa Claus. Had the big guy in the red suit simply snapped? No, the good doctor turned out to be a surgeon for the mob and Castle new his boss. Dino Scarpella used to help Rick with his book research back in the day. 
When Dino believed that Beckett arrested the wrong man, he ordered Rick Castle to set it right and find the real killer. It all leads to cyber crime, a case of star crossed lovers and an inside man. But worst of all, the entire affair get's Castle kicked out of the NYPD. Not even a poem from Beckett can fix this.
Elsewhere, Lanie's parents drop in for a visit and they want to finally meet her fiance. In order to get her mother to back off of the topic of marriage, Lanie told her folks that she and Esposito were engaged. Now she's got to break the news to Javi.
You can watch Castle online any time here at TV Fanatic.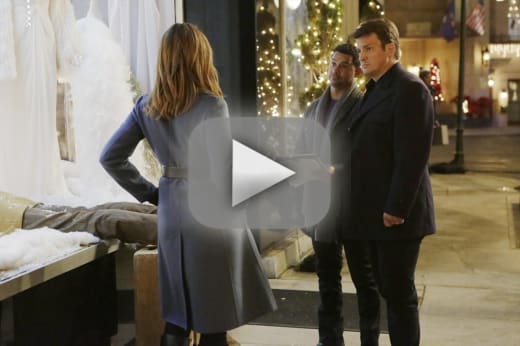 C. Orlando is a TV Fanatic Staff Writer. Follow her on Twitter.