Constantine Season 1 Episode 8 Review: The Saint of Last Resorts: Part 1

Henry A. Otero at . Updated at .
Now that's what I'm talking about! Hellblazer dealt with some dark themes and it doesn't get much more grim than a baby eating vampire.  Have the showrunners finally hit the right tone or what?
Constantine Season 1 Episode 8 not only introduced us to Anne Marie of the Newcastle crew, but the Resurrection Crusade was hinted at as well.
This is the last installment of 2014, but the big cliffhanger will be resolved early next year in Part 2.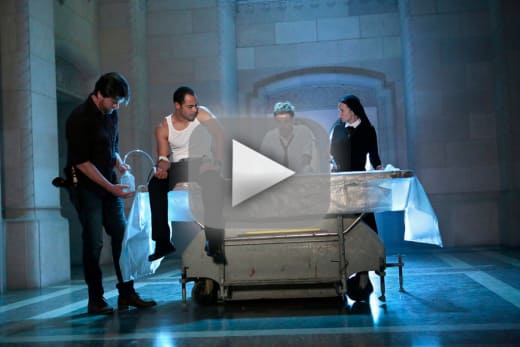 There was way too much love going around in that opening sequence. This being Constantine I knew something awful was about to take place.
Though I realized we would meet Anne Marie this week, I never expected her to be a nun. I found that to be a really interesting twist.
Anyway, so Hugo (Jose Pablo Cantillo of The Walking Dead) goes to fetch his wife some water and returns to find her torn to pieces and his baby boy gone. Seriously gruesome stuff, but this is the series Hellblazer fans have been longing for since day one.
The atmosphere this week was particularly gloomy. There's nothing creepier than a dark, misty church with random nuns popping up here and there. I instantly felt something was off with Luisa. I either watch way too much television or she was a predictable baddie. What do you think?
I liked that Zed is now seeing things the fallen angel saw and the way the writers connected this episode with Constantine Season 1 Episode 7.
Aren't you dying to see a flashback of the Newcastle incident because everyone that was present pretty much hates John, including Anne Marie.
Anne Marie: Something stole a baby. It killed the mother. It ripped into her.
Zed: What just happened?
Constantine: I told you she's not here. Ripped how? Teeth or claws? This thing have fangs, fur?
Anne Marie: I don't know.
Constantine: Then how do you know there's not a mortal explanation?
Anne Marie: I wish it had been human. I would have gone to someone else for help. Anyone else.
Constantine: And what's stopping you? There's plenty of occult experts in Mexico.
Anne Marie: They don't owe me, you do.

How great was that photo of John and Anne Marie from their punk rock days? A regular Sid and Nancy, though Madonna was clearly an influence as well. Ah the 80's!
Bear McCreary's score had elements of rock this week. I try to plug the maestro every chance I get, but the music stood out powerfully in this particular installment.
I wasn't expecting John to leave Zed behind, especially since she speaks Spanish. That said, I'm glad Chas was more involved this time around. I'm not sure why the writers can only use one or the other. Sleepy Hollow does a pretty decent job of balancing several Scooby gang members.
Interesting to learn that Anne Marie was the person that hooked John up with the occult scene. That's right, the future nun was quite the firecracker in her youth. Fascinating the way the show's mythology grows from week to week. I'm convinced in order to do Constantine justice, NBC needs to give us several seasons. For right now, I'll take a Season 2 announcement.
John's reaction was priceless when he realized Anne Marie was a nun. Matt Ryan completely embodies this character for me now. I can't imagine anyone else playing him.
Constantine: Come on love, you're skipping all the juicy parts.
Anne Marie: No, I told you exactly what I saw.
Constantine: You can't just sit there in a bloody nun's habit and pretend we don't have nothing to cover. I always figured that one of us would flee to Mexico, but I thought there'd be tequila involved; or skinny dipping.
Anne Marie: More jokes. That's incredible; that what happened to Astra didn't change you at all.
Back at the millhouse, Zed decided to go exploring. Good thing too because that knowledge proved valuable later on when she was attacked. We learned last week that Eddie (the nude model) was up to no good. One touch and Zed realized it too, but why would she take him to the millhouse? We now know her real name is Mary and that her "father" wants her home.
Hilarious the way John flirted with the nun right? The guy is out of control, I love him for it. The spell John used to figure out what demon they're dealing with didn't work. Naturally, the team goes hunting for the mother's placenta buried in the family's backyard. Gross!
Speaking of gross, how nasty was that tree full of bloody, fleshy fruit? To top it all off the tree began to bleed. All kinds of wrong I'm telling you, but so cool. At least our heroes were now aware the baby was still alive. Also, the demon turned out to be one of Eve's sisters.
It didn't take long for John to figure out this was a family curse when a second baby went missing.
Oi, so if I'm reading this right this teenager's your son and the new missing baby is your granddaughter? Did you piss off a gypsy, mate? Get your whole brood cursed? The killer is targeting your family.

Constantine
Anne Marie was afraid John would lose control again. It did give Chas an opportunity to re-connect with Anne Marie. Good thing John has Chas right? He seems to be the only person that has his back. Chas takes the good with the bad as all friends should.
Anyway, as John was performing his incantation at the fountain who showed up but the nun, Luisa (aka Lamashtu). A baby eating vampire? I knew it! Again, predictable or should I be writing for television at this point? The visual effects were freaky. I'd hate to run into that thing in a dark alley.
A quick visit with Hugo's grandmother proves fruitful. The old lady knew about "la Brujeria." Did he say prehistoric Chilenean warlocks?  
Constantine: The Rising Darkness; it's what I checked myself out of the asylum to find. The brujeria's behind it.
Anne Marie: I can see it now. It's not that you don't care, it's that you can't care about anybody and do what you do. I think I did come here to hide and it doesn't work. Under this disguise I'm the same scared girl I was at Newcastle.
That gave John the idea of injecting a chicken with Hugo's blood to give as an offering to Lamashtu. Can you imagine if John had dressed like a woman? That would be a trip. Was he serious or was he subtly suggesting Anne Marie make the hand off?
Anne Marie feels she owes John for introducing him to her world. "You are my failure John" she tells him. This relationship is very special, I think the kiss proved that. Aside from the next installment I wonder if we'll see more of Anne Marie.
In the end, our heroes managed to fool Lamashtu into taking the offering. That demon certainly wasn't the sharpest knife in the drawer. When our trio followed her into the sewers, I found myself having flashbacks to The Strain.
Now we know the Brujeria are behind everything and have figured out how to break the boundary between Hell and Earth. So that's what's going on! John called upon Lamashtu's demon rival to take her down. However, the real shock was Anne Marie sacrificing John to the Ivunche. A surprising turn of events for sure and the perfect cliffhanger.  
What did you think of "The Saint of Last Resorts?" Will Zed be taken back to the cult she was running from? Can you believe Anne Marie shot John? How will he survive the Ivunche? You're up Hellblazers, hit the comments below and let me know what you thought of this latest installment.
New to the world of Constantine? The hiatus is the perfect time for you to jump aboard. Watch Constantine online via TV Fanatic at any time! Follow us on Twitter for updates during the break.