Forever Season 1 Episode 10 Review: The Man in the Killer Suit
Paul Dailly at . Updated at . Comments
What would you do if your better half was revealed to have another identity?
That was the main question on Forever Season 1 Episode 10.
Poor Henry. Even on his day off, he still finds himself going to work. I doubt that bothered him.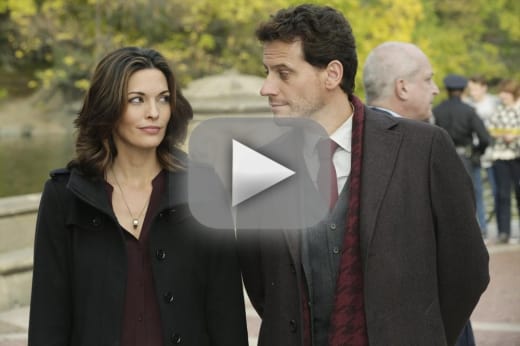 The case this week was a major weak link for me. Sure, it had some interesting moments, but otherwise it was contrived; like something you've seen on every other procedural a few (dozen) times. 
So... Colin Cavindish is really Dwight Diziak. Something seemed off with him in his first scene with Emily. She appeared to be a snotty, stuck up bitch. The quick cut from the happy couple to Central Park and one of their dead body's was brutal. It was quite a contrast from the good times to the bad.
Patricia, the wedding registrar, was used as a mere plot device to advance the story. She seemed genuinely upset upon hearing about Dwight's passing. The reveal she was in cahoots with Dwight to con Emily's families was another big miss. Don't even get me started on how Abe and Henry just happened to bump into her in the graveyard. 
I never guessed that the killer would actually be the family lawyer. Jo and Henry tricking him was pretty clever. It was obvious he was going to head out and discover the weapon. Henry and Jo must have let out a sigh of relief when the plan fell into place. 
Who knew it was possible to tell if someone was American by the pallet in their mouth? I have no idea if it was based on truth or just another really good example of the observational skills from Henry. Time to Google it!
The flashbacks gave us a lot more of Abigail. She is a really compelling character and it would be nice to to see her in the present. It seems doubtful she's really dead. Can you imagine if something happened to her and she was somehow immortal?
Abe is becoming quite the lothario. His friend was barely in the ground a few hours and he was already hitting on the wife. The poor man would be turning in his grave. She was a lot more engaging than his last girlfriend. It looks like she will be sticking around for the time being. He deserves love, but I don't know how she would react to his relationship with Henry. That'd have alarm bells ringing for anyone.
Abraham, you are not doing this. I forbid you to flirt with a widow, your friends wife.

Henry
The writers have managed to successfully weave Abe's storylines in with the case of the week every episode this season, but their luck is running out now. Abe really doesn't need to be involved with all of the cases. It's not plausible anymore. He brings enough to the table as it is.
For a second, I thought Henry was coming clean to Jo. I should have known it wasn't to be, as this seems like a storyline in the reserve tank for later in the series' run.
In other news, Adam finally returned! In my favorite scene of Forever thus far, Henry got into a cab which was driven by Adam himself. Henry appeared shocked. He is so close to getting answers now. Where is Adam taking him? I'm so invested in this storyline and cannot wait to see where it goes! Is it the 9th of December yet?
Buckle up, Henry. I wouldn't want you to get hurt.

Adam
"The Man In The Killer Suit' was decent. There were some flaws, but also good moments; and of course, a killer cliffhanger at the end. 
Other bits from the episode:
How beautiful are all the locations around New York we see on the show?
Why can't younger Abe be a series regular?
How annoying was Dwight's accent? You could almost tell it was fake.
I nearly died laughing at Henry cleaning the skull. Thankfully, I survived.
What did you think of the episode? Where is Adam taking Henry? What was your favorite scene? Sound off below!
Remember you can watch Forever online right here on TV Fanatic, make an appointment with Henry Morgan now!
Paul Dailly is a staff writer for TV Fanatic. Follow him on Twitter.