Girlfriends' Guide to Divorce Season 1 Episode 1 Review: Rule #23
Carissa Pavlica at . Updated at .
Bravo's first scripted series made a damn good run for the money its first time out of the gate.
When it comes to women, we have Pretty Little Liars for teens, Girls for the 20s gals, and until recently, Hot in Cleveland for the 50 plus crowd. Since the gamut of shows features characters in their 30s, we can let them go; but, there has been a huge glut in the market for women who are not young and not too mature. Those in their 40s.
Girlfriends' Guide to Divorce Season 1 Episode 1 introduces us to Abby McCarthy, a highly successful author of self-help books and her new pals. Her brother, Max, describes them as the poster moms for divorce.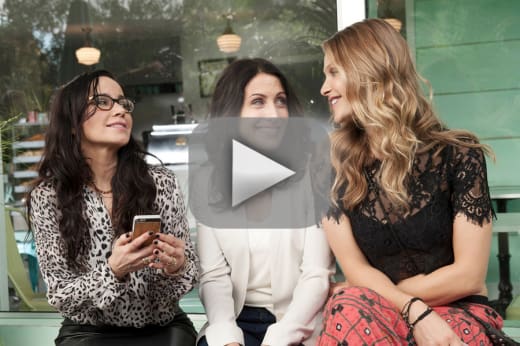 It sounds like it could be a complete nightmare, and with less capable hands than Marti Noxin's at the helm, bolstered by the great cast – Lisa Edelstein as Abby, Janeane Garafolo as Lyla, Paul Adelstein as Abby's husband, Jake, and many more – it might have been.
Instead we're treated to a very smart look at one section of the population generously sprinkled with incredible pop-culture references and raunchy sexual repartee that makes us laugh and catch a case of the feels at the same time.
Through a series of unfortunate events in the premiere, we learn how Abby's marriage fell apart, why she's been "taking a break" from Jake and even how her new friends – seemingly so cock-sure in their divorced status – really are terrible role models, but for reasons Max will never understand.
I've never been married, nor do I have kids, but I felt connected to these women. The writing is about women and for women, putting our needs first. It's not disconnected from the male perspective, but it's not making excuses, either. 
Abby's marriage started to crumble when Jake found emails to her from another man. She was never physical with him, but it incurred the break anyway. Then Jake was physical with women, such as a young actress from The CW (I'm telling you, the pop culture is spot on here) who was born the same year Abby and Jake graduated from college.
The hurt expressed between the two was as beautifully performed as it was written. After Abby finally gets the balls (you'll get the double entendre) to get physical with someone, Jake explodes, putting the blame of the end of their relationship on her.
Abby: I never touched him!
Jake: No, no. What you did was worse! Yeah. You felt for him. You confided in somebody. You confided in him!
Abby: Because he listened!
Jake: Oh Jesus.
Abby: He didn't feign interest while he surfed the Web. He didn't take a dump while I was pouring my heart out to him.
Jake: That happened once!
Abby: I begged you, I asked you, talk to me. Make love to me.
Jake: I was tired!
Abby: For five years!
Which hurts most; sex or an affair of the heart? It depends upon whom you ask, but I felt as if I could have easily been standing in the shoes of both Abby and Jake – to want the intimacy, but have to go elsewhere to get it would be as easy to do as it would be to point a finger if I found I was the lackadaisical one in a relationship and allowed my partner to drift away. Neither Abby nor Jake wins in this argument.
Although the title of the episode references never lying to the kids, it's really themselves they're lying to, thinking they can salvage the marriage for the sake of the kids, to keep their family from exploding into two of everything. Except kids are extremely tuned into their parents' actions.
When they're tussling in a somewhat physical manner, Abby and Jake discover their teen daughter Lily knows Jake has been living elsewhere. Since the jig is up, will it be the final straw? Ah, no. It's never that easy.
Instead we're left with Abby's book signing for her bestseller in the Girlfriends series, "The Girlfriends' Guide to Getting Your Groove Back: How to love our husband and your family without losing your mind." Abby picks her gathering for the moment to do that – lose her mind.
I think my book can help you get your groove on and I, uh, believed it all when I wrote it, but now I think, what a pile of horseshit. I mean, it should be called "Not In Love Anymore, You Can Stay Married." But, screw that. You deserve more than that. I mean, women can be funny and so there and so present, but if our hearts shut down, you can't open them again with a blow torch and this book... I mean, I still think there's some good advice in there if you actually feel something, honestly, I wasn't trying to sell you a lie. I was... I mean, there were times when I would watch my husband sleeping and I would just think, if he would just die, it would be so much easier.

Abby
As a book fell at Abby's feet, dropped by a faithful reader, it was obvious although her readers were stunned, they would be back. It's not easy to listen to a sound argument and turn away from someone.
Yet, when you require self-help books to get you through the day, you may not be the most stable person to hear the argument, either. Instead, Abby could find a completely new audience thanks to her reawakening. 
Did you watch? What did you think? Is it your new obsession? There were so many brilliant little moments. Read the recap, reconnect with the Girlfriends' Guide to Divorce quotes and then hit the comments!
Carissa Pavlica is the managing editor and a staff writer for TV Fanatic. She's a member of the Broadcast Television Journalists Association (BTJA), enjoys mentoring writers, wine, and passionately discussing the nuances of television. Follow her on Twitter and email her here at TV Fanatic.