Is it me, or are the women of Girlfriends' Guide to Divorce seriously getting the shaft?
Jake was showing off his ridiculously young CW girlfriend to the kids, Abby was getting the runaround from her agent and Lyla was perilously close to losing her mind juggling work and kids events. 
If there's one thing we learn after Girlfriends' Guide to Divorce Season 1 Episode 3, the only people Abby, Lyla and Phoebe can count on are each other.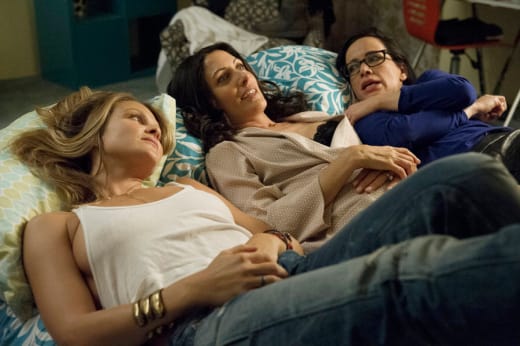 Counting on each other ain't so bad from this angle. Whether Lyla is singing the praises of power tools (they don't turn you into a lesbian!), Abby is receiving a rockin' gift basket from her "Phoebe Godmother," or the three of them are out on the street scarfing down doughnuts while on the prowl for a new Blood Sisters poster, they never stop offering support.
Abby was so sure she could get through her first night without the kids with wine and a bath, but after being shunned by her agent and told by Missy (yeah, it's Melissa, I know) their great new idea for her was to write about menopause (Meno. Pause. Breathe.) things didn't go quite as planned.
As the wine flowed, Abby got more comfortable, dancing around the house in her skivvies, drawing with marker all the parts she'd like to have work done and then she broke. Crying uncontrollably, she called in reinforcements before attempting to close the window Jake wouldn't fix. 
When Phoebe and Lyla arrived to Abby stuck in the window and a paramedic getting her out (best call he had all week!), Phoebe's urge to take a photo was perfect. Who wouldn't want that moment to live on?
I'm a bit jealous I don't have a Phoebe and Lyla in my life. For all their flaws, they're there through thick and thin. The relationships on Girlfriends' Guide to Divorce are written to be shipped. Jake and Abby, Abby and the girls, even Max and Jake are authentic and beautiful.
Since Jake and Abby separated, Max has been more in Jake's camp than Abby's and it's hard to watch. Part of me is angry he's spending more time with Jake (that we see) than Abby, but the other part is happy he's not giving up on his long-time friend because of her, either. Can you even imagine how it makes all three of them feel? It's a man in the middle situation.
For some reason it never occurred to me Delia worked with Lyla. Sleek, devious, successful divorce attorney Delia is quite the foe for Lyla, who lacks glamour and the extra time to flit around Hollywood with Downey and Prince. Work is the one place Lyla felt confident, but now that she's trying to compete with an unemployed free man for parent of the year, she's in serious competition with Delia to land "whales" at work. She can't be at all places at once and managing her time isn't going well at all.
When Lyla finally lit into the teacher (with this ah-mazing GG2D quote) who felt it was wrong for her to miss storytelling time because of the bonding moment it creates with children, I cheered. Dan isn't paying for the school and Lyla didn't need to be berated for not showing up when she's trying to make money to pay for what I'm sure is an expensive school. Every time she arrived at either a school function or a work meeting late, I cringed in genuine pain for her.
Jake is faring better than Abby. His ace in the hole is Becca Riley. Lilly loves her and even Ford, who at first disapproved of Max's secret phone calls with Jake, loves Blood Sisters! 
Jake tried not to invite Becca over on his first night with the kids, but when the internet went down and Lilly wouldn't stop begging to see Becca, he caved. He wants to seem cool to his kids. Unfortunately, bringing Becca into the equation so soon gives him a win at the expense of Abby and it's unfair.
Abby held it together more than most would when she spotted Lilly and Becca yukking it up on Instagram, with Ford holding court beside them.
Lilly: You're just jealous 'cause she's so pretty and young.
Abby: Wow, hold on there.
Lilly: Dad found somebody awesome. You know why? Because he's awesome. So it's too bad that you kicked him out right? Well it's not my fault that you're alone and you can't handle it!
Not only did Jake suggest to Abby Becca was somebody special, but Lilly had to pull out the big guns – Abby is old and unhappy and lost a really great guy when she let Jake go. It hurt to watch that unfold. Even so, Abby was totally cool the next day when she and Max had traffic duty at school. She loses her mind temporarily, but never sight of the bigger picture. She can't hold it against either Jake or Lilly because everyone is moving on.
It's only been three episodes and I feel very invested in these characters. The best thing is it's impossible to choose favorites. There are exceptions are the moment; Dan and Delia aren't scoring any compassion points right now, but I can't be sure their stories won't take a turn changing that in an instant. Alright, maybe Dan has a lot of ground to cover before that happens, but you get the idea.
Is it time for Abby to get her groove back, i.e., hook up with Nate? It's a tough call, but it's not easy watching Jake with somebody while she waits it out. Although my readers might disagree, some decisions made out of desperation seem really right at the time. Should she embrace the "Bonjour" or was Abby getting a message from the window about Karma?
Ladies, where are you? Where do you stand on the characters so far? Am I alone in thinking Abby would have been hailed by her readers for her honesty about her feelings on marriage?
Hit the comments and watch Girlfriends' Guide to Divorce online if you're late to the party. Next week, we'll hit it on Twitter and with a little wine to set the mood! 
Carissa Pavlica is the managing editor and a staff writer for TV Fanatic. She's a member of the Broadcast Television Journalists Association (BTJA), enjoys mentoring writers, wine, and passionately discussing the nuances of television. Follow her on Twitter and email her here at TV Fanatic.