Homeland Season 4 Episode 12 Review: Long Time Coming

Carissa Pavlica at . Updated at .
The times they are a changin'.
Homeland Season 4 Episode 12 was easily the most uneventful we've encountered in many seasons, but the underlying motivations for the events will have a major impact going forward.
It's what wasn't said that left the biggest impression. Although the story is wide open for Homeland Season 5, it was hard not to feel a finality to what once was. Doors closed and we're awaiting new ones to be opened.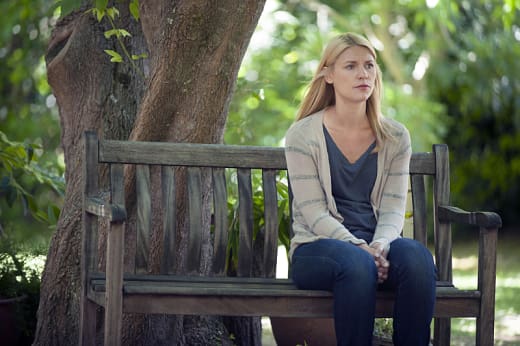 Carrie and Maggie had to put their father to rest. Before doing so, they got a visit from their mother. It was completely unexpected, but in context made perfect sense. Carrie is at a turning point. When she initially discovered she was bipolar, she wanted her mom more than anything, but she wasn't there. 
I always thought that being bipolar meant you couldn't be with people because they'd up and leave you sometime.

Carrie
It wasn't her dad's illness that pushed their mother away, it was her own proclivity for straying from the marriage vows. When she found herself pregnant again, she decided to turn over a new leaf and be the best mom she could be to her son, Tim.
I expect we'll get to know Tim, as well as Ellen, more in Homeland Season 5. The similarities between Carrie and Ellen were well played. They even share the same determined, almost masculine walk. Tim seemed like a well-adjusted kid. He should be a good addition to the family.
When they decided to pull out of Islamabad, it was all over. Even Quinn made it out alive and unharmed. His appearance at Frank's funeral played with our hearts. He's been in love with Carrie for a while now, and after a decent evening together (one in which he got to know Frannie and Maggie), they kissed passionately.
Of course, Carrie turned him away. Not completely, of course, but just enough for him to grasp at the danger Astrid promised Carrie he was unable to escape. If Carrie had given the word and they could have tried to get out of the life together, it might have worked. But what is Homeland without Carrie Mathison? 
To ensure she maintains, two things happened. Quinn left for a black ops mission (with his kill letter for Carrie ready for delivery) and Saul hopped back into bed with Dar Adal.
Dar Adal made a deal with the enemy. He promised Haqqani his name would be removed from the kill list if he didn't harbor terrorists in Afghanistan. Saul was at first disgusted. Then he learned the video would never be used and was given the only copy (or so Dar Adal and Haqqani said). Do we believe them or will that be a way for them to force Saul to tow their desired line?
After Saul's humiliation and the realization, yet again, life is very short, he seems to have jumped on board with Dar Adal to regain his position as CIA Director. Does that mean he's gone dirty himself? Saul could formerly righteously talk with confidence and share his views with terrorists like Haqqani because he knew he had done nothing to compromise his beliefs.
If he chooses a morally gray avenue, will that change the way he handles himself? It's been his faith in the system and his government that made Saul so respectable. He started to lose faith when Lockhart was given the directorship over him and that continued when Carrie went back on her word and allowing him to be recaptured. 
Since so much wasn't said, any ball could be in play when Homeland returns in 2015. Nothing could be as it seems, or it could be spot on. When Peter was driving away from Carrie, I had this feeling they would never lay eyes on each other again. That's a possibility on an open ended mission. 
Carrie's determination to find him might have her questioning her own decision not to leave Frannie ever again. Would she go to Syria or Iraq to try to find the man she now realizes she can be with because bipolar isn't the final nail in the coffin of every relationship?
So where does this leave us? Carrie lost her father and her mentor, as well as the man who loves her and on whom she could count unconditionally – three important men in a matter of days. Her mother is back in her life and although living in Missouri makes it unlikely she'll play a large role, mending the relationship was incredibly cathartic. 
It would be nice if, given a little time to think about Carrie's last words to him, Quinn decided his own fate (isn't that essentially what Dar Adal said?) and broke free again, heading back to Carrie. But Homeland isn't a love story. It's about love of country more than anything, and there are some serious questions about that love as the season closes.
I'd like to think Lockhart will stick around in some capacity. Some fellow on Twitter likened his appearance at the funeral with lasagna as metaphorical of his many layers and our love/hate relationship with him. The welcome mat is still out for Lockhart. Will we ever hear from Martha and Dennis again? Do we care? What role would Carrie play in a CIA run by a man she might not trust? Could she work for Saul if she knew he was in Dar Adal's (and Haqqani's) pockets? 
At the end of Homeland Season 3 we had an idea of the direction Season 4 would take. Right now, Season 5 seems wide open.
Carissa Pavlica is the managing editor and a staff writer and critic for TV Fanatic. She's a member of the Critic's Choice Association, enjoys mentoring writers, conversing with cats, and passionately discussing the nuances of television and film with anyone who will listen. Follow her on Twitter and email her here at TV Fanatic.