Lots of truths were spilled tonight, but there were some that did not end the way they were intended to. 
On Jane the Virgin Season 1 Episode 8, Jane told Rafael the truth, Lachlan told Petra part of a truth, and, well, Rose she turned Luisa's truth into a lie.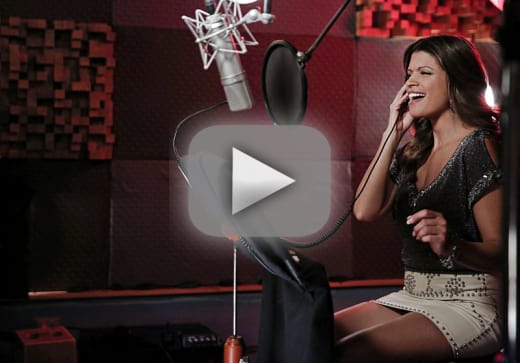 Oh, yeah – Luisa's back, after a long disappearance. 
For Jane, it probably seemed like a blessing. Rafael, not so much, considering it was his money Jane was going to get. Once they go to court, it was weird to see Jane and Rafael on opposite sides of the courtroom, but then Luisa showed up and everything just fell apart. 
Hearing what Luisa had been up to during her disappearance was interesting, especially since she really only became sober during the week before her long disappearance; but did Rose really think the new, positive, Luisa was going to go quietly?
She obviously didn't. I was definitely on Luisa's side when Rose had her dragged away to a mental institution. Sure, she seemed more eccentric than usual, but she doesn't deserve to be committed. Bad Rose!
On the Petra and Lachlan front, I don't believe most things coming out of either of their mouths. They both seem like they have ulterior motives for whatever they are doing and I'm convinced one of them is the elusive Sin Rostro. I'm making my prediction here. 
I thought Michael's story would've been touched upon more, but I'm OK that it wasn't; I enjoy the other stories more than Sin Rostro, but I'm sure it's going to be interesting. 
Xo, meanwhile, got a big break by recording a demo, thanks to Rogelio. I love Rogelio, but I would have been completely OK with Xo dating that Marco fellow for a bit longer. Jealous Rogelio made that entire relationship so much better. 
One of the things I love about Jane the Virgin is how little things are included in the relationship interactions, like the glowing heart for Jane and the visible sparks for Rogelio/Xo and Jane/Rafael. It's a little touch to the relationships that you can physically see, not just assume. 
Now – Jane and Rafael. Those two crazy kids are too adorable for their own good. But, Rafael needs to learn how to: 1. React better to altering news, and 2. Understand the golden rule of not taking a drink from a stranger, no matter how pretty she is.
It was an interesting tidbit thrown in about Michael's reaction to learning of Jane's virginity. I can see why Jane seemed even more frustrated with Rafael, even though it was rightly deserved. 
I'm curious if they will return to the escort drugging Rafael story, because they skipped over that pretty fast. I actually half-expected Michael was going to catch Rafael at the bar with the girl and tell Jane but, alas, he was concerned with his mystery man.
The entire scene of Jane and the escort just goes to show just how good of a person Jane Villanueva is; actual saint or not. 
You're Jane the Virgin and I'm a really religious woman. Which, I know, is hard to believe given, you know, what I do.

Escort
A lot happened in the final part of the show, especially with Rafael and Jane. I was wondering how the story of Jane's grandparents was going to connect to the ending, but it fit in perfectly, especially for us Jane/Rafael fans. 
That is love. To give up money, like it's nothing.

Abuela
If you weren't saying or thinking: "Awww..." when Jane's abuela explained love and money as Rafael told Jane the truth of the lawsuit, you are lying. It was too sweet – which then led to us seeing the actual sparks between the two. 
What did you think of "Chapter Eight"? Who do you think is Sin Rostro? Should Jane just permanently have a halo above her head or is that too much? Do you think Xo should give Rogelio another chance?
If you have missed out on any of the episodes, make sure you watch Jane the Virgin online via TV Fanatic now. 
Mary Kate Venedam is a staff writer for TV Fanatic. Follow her on Twitter and on Google+.