That's what I call a cliffhanger. 
On Jane the Virgin Season 1 Episode 9, the first half of the season came to a close, but, boy, did they end with some stunners!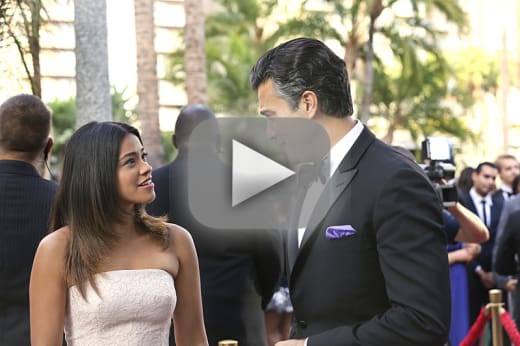 The first thing to mention is my love of the on-screen graphics. Whether it is explaining what people or words are to the timeline of Petra's life, I love what the graphics add to the show. It may not always be necessary, but it makes the entertaining narrator more of a character as we see explanations to what is happening on screen. 
Rogelio proved to be comic relief, yet again, during his preparation for a big awards show. First, he started the hashtags to help him win and then we saw some competition between him an another actor. But, you had to feel bad for the guy when he prematurely stood up when he lost. Though I couldn't help but laugh as he stood up. 
Esteban: "Rogelio is like a father to me."
Rogelio: "Which is remarkable since we are the same age."
Even Rogelio went to Petra's room, so to speak, when Ivan started to get ideas for an escape thanks to Rogelio's character. It was amusing as Ivan tried so hard to follow the instructions, but he ultimately lost out thanks to Petra and bad timing. 
After weeks of Petra's unknown past, answers were given and even used against her. It started when Petra wanted custody. It was a bold move to crash a sonogram and drop that bomb on Jane and Rafael; but, let's face it, Petra is a bold woman. 
I'm still not sure if Petra was sincere when she said wanted custody, but I certainly bought the story about her father. 
After a chain of events, we learned the story of Petra, or Natalia. I was expecting more scandal in her story, but a bad boyfriend doesn't seem enough. I'm sure there is plenty more to learn about Petra, but the scandal comes more from what her mother did at episode's end than what got them to Miami.
Michael's story was much more interesting this week, and not just because his scenes collided with Jane and Rafael's. He had a whole lot of desperation to ask his brother for help. I mean, it did lead somewhere, but my suspicions for Billy grow every time he is on screen.
I'm hoping for a collision of storylines now that Michael has accused Rafael and the mysterious safe has been emptied, oh, and the intel on the secret passageway in the Serbian's room.There could be a lot of guesses as to who is connected to Sin Rostro, except the Villanueva women, because there is no way they are involved. 
Among serious parts of the episode, there were plenty of adorable moments between Jane and Rafael, even as they fought during the sonogram. They were even adorable when they conspired against Petra, because no way were they going to let that 'Witch with a B' take their baby, and they certainly let her know that. 
Let's be honest, it takes a lot for Jane and Rafael not to be adorable. Is that too biased?
The cliffhanger of cliffhangers, of course, ended the winter finale. I had a feeling Jane's abuela would be involved when she was very tipsy and wanted to speak to Petra. Red flag, immediately. 
But, then when she went to the room, Ivan called out for help. I thought Alba would also be taken hostage, but it was worse. Alba was pushed down the stairs as she went for help by none other than Petra's mother, who was standing.
I admit it took me a second to realize that Petra's mother was standing because I was too concerned for Alba, but when I did it was one more shock. I just hope Alba will be OK. 
What did you think of "Chapter Nine"? Do you think Petra really wants custody of Baby Solano/Villanueva? Is Rafael Sin Rostro? What do you think will happen to poor Alba?
If you want to watch or catch up during the hiatus, make sure you watch Jane the Virgin online now via TV Fanatic. 
Mary Kate Venedam is a staff writer for TV Fanatic. Follow her on Twitter and on Google+.