Nashville Producer Talks Surprise Weddings, Suicide Attempts and The Big C
Jim Halterman at .
[Spoiler Alert: If you haven't watched the mid-season finale of Nashville, stop reading now!]
Now, folks, that's how you do a mid-season finale!
Last night's Nashville Season 3 Episode 10 brought every story to a head, shocking the heck out of us with twists and turns and leaving us hanging off a cliff until the drama's return in February.
Still in shock over the surprise breakup? The unexpected wedding? The life threatening illness? The paternity results? The prostitute breakups? The suicide (attempt, we hope) ? And, yes, the karaoke?
Executive producer Dee Johnson jumped on the phone with me this morning to talk over all the big happenings and to deliver some teases on what's coming next...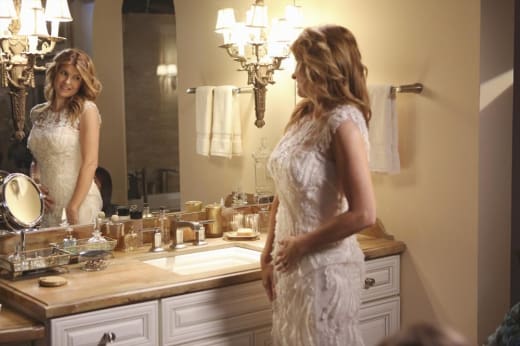 TV Fanatic: That mid-season finale was, to borrow a phrase, banana pants in the best way so there's lots to talk about! Watching last night's episode, I realized how much we're now sympathizing with Layla, who really has been put through the wringer, poor thing!
Dee Johnson: I know people have their feelings about it but she's really, the character and the actress actually, really quite young and when you look at what happened and the situation with the man that she married, it's a rough ride!
TVF: When Jeff Fordham was telling her that nothing more was going to happen between them, she really did look like a little girl next to him. Do you think Jeff has some genuine feelings for her?
DJ: I think he has feelings for her as much as Jeff is capable of having feelings for somebody. I think it's complicated. I don't think it's 'I'm in love' or anything like that but he's been thrown by caring about her as much as he has but he is who he is. He's complicated and he's damaged goods in his own way.
TVF: And we did get a wedding last night even if it's not the one I was expecting!
DJ: We were thinking all along that we wanted the juxtaposition of the big, splashy, $500,000 wedding versus City Hall and authentic and small and real.
TVF: And Juliette doesn't get a lot of happy moments on the show but it was nice to see her actually happy for a moment. I know it probably won't last…
DJ: No one's allowed to stay happy for long. Those two did such a great job of just conveying so much in that one little, simple moment.
TVF: When Rayna made her decision to not marry Luke, it made sense since we've seen little bits of why maybe this wasn't working for her despite loving him. Is Rayna going to continue to be torn between Luke and Deacon?
DJ: She has to regroup. It's been a wild ride for her, which is what we always intended. She'd get swooped up into a life and then suddenly not recognize where she is so I think she needs to get back to basics and I think she'll be doing that. As with this show from the very beginning, the Deacon quotient will always be a factor.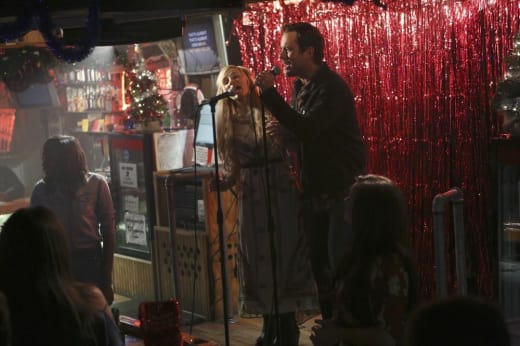 TVF: Let's talk about Deacon and the liver cancer story. I feel like we haven't seen as much with men getting cancer on television. Am I wrong there?
DJ: You know what? Now that you mention it, I can't pull one forward. I really can't. The thing about him is that we wanted him to feel like ultimately some portion of his past came back to haunt him and there might be some correlation there and some strange karmic results and we knew we were going in that direction. It's interesting that it doesn't happen often with men [on television].
TVF: I really love that Laura Benanti's story revved up a little last night. What can you talk about with what appears to be a domestic violence story?
DJ: I think she hoped that is was a non-issue. It was a non-issue. She had gotten away from a guy who was clearly abusive and controlling but I think her being thrust into the limelight again and whatever circumstances in his personal life, he turned his attention back to her so obviously it's going to be a huge complication in her life.
That moment when [he hits her], even though I know it's happening and I've seen it happen 10,000 times since I've been working on the [episode] cut 10,000 times, it's still startling the way that scene played out on her porch.
TVF: I totally agree. And it's been nice to see Gunnar grow up a bit with taking care of Micah. but, first, have we seen the last of Chaley Rose as Zoe?
DJ: We're still in the middle of our working of the season so I think we'd always love to have her come back and I'm sure when she does it will be a very inopportune moment.
TVF: Poor Will Lexington. He just can't get it together entirely but I like that he does care for Layla to a degree. What's his journey moving forward?
DJ: He's taking steps and it's going to take him some time to get to everywhere he needs to go. We planned in season 2 just to get him to the point where he could actually say out loud what he had been avoiding and denying through the whole prior period and now we're getting him to the point where he's really recognizing his culpability in that sham of a marriage and that she was collateral damage and he has to deal with that and it shakes him up in a big way.
TVF: It feels like Teddy's story wrapped up since he told Natasha (the prostitute) that he couldn't continue seeing her but is it really wrapped up?
DJ: I will say this – those things are always easier to get into as they are getting out of.
TVF: Where will we see Gunnar's story with Micah moving forward now that he knows it's his brother's child, not his?
DJ: I think that Gunnar's core feeling of being an orphan continues to be a big problem for him and this one really throws him for a loop. He has a lot to process, not only because his brother is the father of Micah, who he really believed was his and that he feeling like he was getting the family he always wanted and in addition to that the betrayal he feels from Kylie, his first love, it really throws him for a loop. He's going to have some serious struggling going on when we come back. 
Nashville Season 3 returns February 4 on ABC. 
Jim Halterman is the West Coast Editor of TV Fanatic and the owner of JimHalterman.com. Follow him on Twitter.