Nashville Season 3 Episode 10 Review: First to Have a Second Chance

Amanda Steinmetz at .
When one door closes, another opens. When one wedding is cancelled, another one happens and surprises us all.
Relationships went through major changes in Nashville Season 3 Episode 10.
The midseason finale brought the drama and left some of the characters' futures uncertain.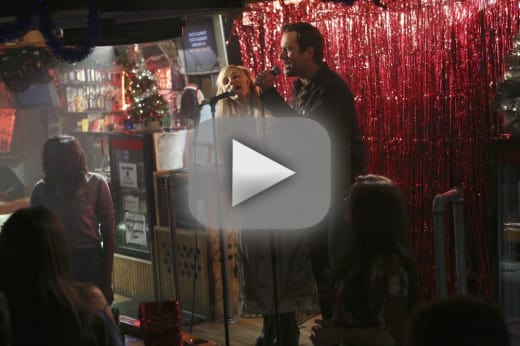 So is anyone surprised Rayna didn't go through with the wedding? While it wasn't unexpected, I'm glad it was seeing her daughters' reaction to their new lifestyle to make her realize this isn't the life she wants for herself or her family. Of course Deacon played a huge role in her cancelling the wedding, but it's good that he's not the sole reason.
Rayna: It's me, it's who I've always been. It's who I need to be.
Luke: I love you Rayna.
Rayna: I love you too, and I can't make you a casualty of my life. You don't deserve that.
Even at the rehearsal dinner, all Rayna could focus on was the circus surrounding the wedding. She couldn't enjoy Maddie and Daphne's performance because she couldn't help but look at the photographer taking their picture. 
It also didn't help that Luke was discussing boarding school with Maddie and Daphne behind her back. I don't think he did it on purpose, but he should have included Rayna in the discussion.
I've never doubted that Luke loved Rayna, but their love story never seemed forever. He leads a different lifestyle than she likes for herself.
I just want to make sure it's my life I'm living.

Rayna
Obviously cancelling the wedding the day of is not going to go over well with both Luke and the press as we can see in the preview for the show's return. I have a feeling Luke is going to be anything but a gracious loser in this scenario. Not that he doesn't have the right. I'd be pissed too if the person I was supposed to marry left me the day of. 
I have no idea where Rayna was driving to at the end, but she looked confident in her decision.
Thankfully, we got the surprise wedding of Juliette and Avery. Yay!!!
After all the back and forth, Avery realized (after talking with his mother) that he couldn't just be friends with Juliette. It would never work. She would always mean more to him than that.
I think hearing Juliette's description of their relationship that they would tell their daughter someday pushed him to think about what they are and should be to each other.
Avery: What are we gonna tell her... about us?
Juliette: We'll tell her she came from a place of love, and her parents became great friends.
The intimate wedding at the courthouse played nicely against what was to be Rayna's giant spectacle. Marriage is a huge step for the both of them. I sincerely hope Avery proposed to her for the right reasons and not just for the sake of the child.
I'm anxious to see what happens next for these two, but for now it's just nice to see them back together and happy. It seemed like Juliette and Avery were the only two happy people by the end of the hour.
Let's start with Sadie. Wow! I didn't see that punch coming, and it was awful. Sadie is such a lovely character, and it's sad to see the type of man she was once married to. I hope she reaches out to others for help, because this bastard needs to be taken down immediately! 
Next we have Gunnar. The second the lawyer mentioned paternity test, I knew how this would end. Like many of you suspected, Kiley had cheated on Gunnar with his brother, Jason. Gunnar, you are not the father. But you are the uncle. 
Kiley's parents were way too harsh, and I didn't care for them at all. 
Gunnar: I'm not that confused, mixed up kid anymore.
Linda: No, now you're a confused, mixed up single father.
Gunnar was clearly invested in being a father to Micah. His involvement in Micah's life remains to be seen at this point now that the truth is revealed. (Side note: Not one mention of Zoey from Gunnar. Clearly he needed very little time to move on. Stay in Los Angeles, Zoey. You keep doing you!)
Someone who's future remains to be seen is Layla. I really hope she doesn't die because her character has grown on me these last few weeks. Jeff is such slime. Even if he did have a smidgen of feelings for her, he shut them down immediately to appease Will. First he dumps Layla, then he gives her drugs. What a prize!
Will is definitely on my list now, and it's of the people who officially suck variety. First he ruins Layla's one moment of happiness, and then jumps into bed with a random chick to prove he's not into guys. Ugh! I hope Will and Jeff feel like sh*t after finding Layla in the pool. Although the only thing Jeff seemed to care about was calling Teddy so he could cover his tracks. 
The only thing I'm going to say about Teddy is that this prostitute storyline is beyond boring, and there better be some blackmail or scandal coming up in the second half of the season.
Now let's get to Deacon. Did anyone see a health scare coming because I sure didn't! The previews for this episode made it seem like Deacon was going to go back to the bottle.
I'm glad he didn't because it's shown how far he's come. However, he still fainted which led to the doctor saying he might have cancer. No. No. No. No. No! I do not accept this, and I hope it's just a scare. I also hope he doesn't keep this a secret for long.
This is a drama though, and simply giving Deacon and Rayna a happily ever after won't be that easy. When one obstacle ends (Luke), another one begins (cancer?).
Favorite performance of the week goes to Deacon and Scarlett singing karaoke simply because it was fun to watch.
So over to you guys! What did you think of the midseason finale? Were you surprised and/or happy about Rayna ending her relationship with Luke? Were you suprised by Avery and Juliette tying the knot? Do you think Deacon has cancer? Sound off below and don't forget you can spend this winter break catching up on all the drama when you watch Nashville online! See y'all on February 4th!
Amanda Steinmetz was a staff writer for TV Fanatic. She went into retirement in June of 2027. Follow her on Twitter.