NCIS Holiday Preview: Sean Murray on Gibbs' Rules, Seeing Ziva, Big Twists in 2015
Jim Halterman at .
Christmas and cyber-terrorism just kind of go together, right?
If you're talking CBS' long-running NCIS, the answer is yes!
Sean Murray told me earlier today, however, that the episode is more than just a run-of-the-mill case for our DC-based gang but, instead, gives long-time fans a chance to reflect on past characters - like Ziva David - and Gibbs' rules that have been a part of the show since the beginning.
Murray also said we'll see a softer side of Gibbs in NCIS Season 12 Episode 10 and he talked about the chance of seeing McGee take a trip to New Orleans for the NCIS: New Orleans spin-off. Let's see what he had to say about this week's episode.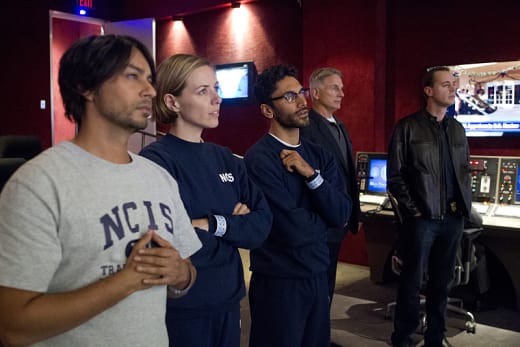 TV Fanatic: I saw Twitter blowing up this weekend because you and Pauley were tweeting about it. I know this is a holiday episode but would you say it has a different feel from the traditional NCIS episode?
Sean Murray: It feels like an NCIS but it doesn't feel like the norm. We kind of make our holiday episodes special and this being a Christmas one, I'd say it's more about reflection and reflection on the characters. The name of the episode is "House Rules" and talking about Gibbs' rules from over the years here and there, how they apply and the lessons that they teach and that kind of stuff
TVF: But you wouldn't necessarily call it a flashback episode, right?
SM: You definitely see some stuff from the past but I definitely wouldn't call it a flashback episode.
TVF: What's the context of some of these reflections and looking back?
SM: It's a trip lead through McGee as he's writing a letter to his father. There's a case that comes up a week before Christmas break and everyone is trying to finish this case so they can go on their respective trips. We get this case and it's a cyber-terrorist that's shutting down a lot of the internet in DC and we bring back three former guest stars who we've imprisoned for cyber terrorism and get them to help try to track this guy down.
TVF: So for fans who have been loyal to the show all these years, this could be a good pay off episode for them, right?
SM: Definitely. It's going to be really rewarding for the longtime viewers.
TVF: How is it for you, Sean, to do something different in an episode like this?
SM: I love it when we do this stuff. I look forward to it. I get a script like this that is a little meatier than others. I look for the challenge so I'm happy to do it and makes me happy at the end of the day.
TVF: Is there some opportunity for the entire cast to be together? I know a lot of the time everyone is splintered off in the various parts of a story.
SM: I think we do. If not in the episode, we see all the cast together in an episode coming up really soon. We're going to see a lot of people present and past in this Christmas episode. There's a lot of reflecting on the past so we see some flashbacks with Ziva, Mike Franks, Jenny Shepard, stuff like that. Again, it's not really a flashback episode but we see them in montages here and there as we applying talking about the rules and applying them to past situations and we see some of that but Ziva is not returning for the episode, for instance.
TVF: Let's talk about Gibbs. He's such a hard, serious guy most of the time. Do you think we see a little softer side of him in this holiday episode?
SM: I do and I think some of the way Gibbs shows he cares is tough love and I think his heart is in the right place. But Gibbs is a pretty lonely character. You know how Gibbs is. He can get extremely personal but he does it through a hardness. The character has been through so much and we do get to meet one of his mystery ex-wives [Jeri Ryan, as was previously announced] in a coming episode and that's fun.
TVF:  How would you tease some other stories or guest stars coming up in the new year?
SM: We have some pretty surprising twists coming up. I wish I could say more but I can't! But there's some stuff coming up not just in the Christmas episode but in January. I think this season has been really good. I think it's been better than some of our past seasons and I really enjoy when we get to show our new episodes and the fans get to see them. It makes me happy.
TVF: I know from covering the show that you guys have some really hardcore fans!
SM: I know! And I've had a lot of experience with fans coming up to me but I haven't had a bad one yet.
TVF: Any chance we could see McGee pop up in New Orleans?
SM: Yeah, I don't know. Maybe. Gary has mentioned that maybe that's a possibility in the future at some point. We've talked about him popping up in New Orleans but there's nothing set on that yet.
NCIS airs Tuesdays at 8pm on CBS. 
Jim Halterman is the West Coast Editor of TV Fanatic and the owner of JimHalterman.com. Follow him on Twitter.