NCIS: New Orleans Season 1 Episode 10 Review: Stolen Valor

Kathleen Wiedel at .
A serviceman missing and presumed dead is rescued from Purgatory and restored to his family - it must be Christmastime! NCIS: New Orleans Season 1 Episode 10 features two almost totally separate stories, connected only by said serviceman's jacket.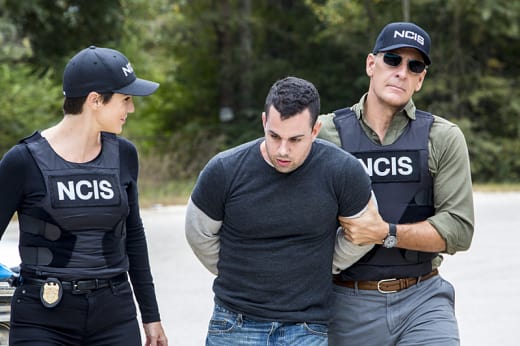 None of the team members had anything complimentary to say about people, like Len Bowers, who impersonate members of the military. Frankly, neither do I. The title of the episode "Stolen Valor," comes from the idea that these people are tarnishing the honor and respect worn by genuine members of the armed forces. The Stolen Valor Act of 2013 makes it a federal crime to falsely claim military honors.
There can be a number of motivations for pretending to have served in the military, from financial gain through veterans benefits fraud to a simple desire for attention and admiration. In the end, it didn't work out for Len Bowers, who was rejected by the military due to a heart murmur. He faked up a military background to impress his girlfriend. LaSalle, for one, was not impressed:
I wonder if Trish knows she's shacking up with a charlatan!

LaSalle
It sure didn't take long for Brody to break Trish down in interrogation and get her to flip on her lying boyfriend, who was well on his way to Mexico by the time our heroes caught up to him. It was almost sort of ironic that Pride was able to appeal to about the only thing genuine about Bowers in order to get the information about the jacket.
The focus shifted almost exactly halfway through the hour, making this episode really a two-part story, with that jacket as the tiniest thread that leads them on a hunt to the far side of the world. It was more than a little predictable that Zach Chase would turn up not-dead, but hey, it's Christmas. I'm as much a sucker for Christmas cheer as the next person.
I think that woman who lost her legs was a petty powerful visual moment that provided additional gravity to the situation: they may have rescued Chase in the end, but not everyone came out of that mess whole.
I did find it a little odd that Commander Conner and his men were so quickly able to track down the boy who had the jacket. Must not be that many errand-runners around town, I guess? Maybe I missed something.
Was LaSalle and Pride actually flying out to Afghanistan a bit much? Probably, since it would have been infinitely faster for the men already there to head out and not wait for a couple of NCIS agents from New Orleans to fly halfway around the world. Seriously, that has to be a very, very long flight. Why wait?
The rescue scene would have played out a lot differently if the NCIS team had to sit back safe at home and watch it all play out on their monitors. Honestly, maybe that would have been better, with a little more suspense as to whether they'd arrived in time. "I wish we were there." - "Yeah, I know what you mean, but Chase's been held long enough without having to wait on us riding a plane. And we couldn't have done anything else there better than the SEALs out there right now."
Probably of more interest was what was going on with LaSalle. As some fans predicted, LaSalle's brother has psychological problems, specifically bipolar disorder. It's an absolutely devastating disorder that can wreak havoc on not just on those suffering from it but from those around them, as well. This episode provided some great insight into LaSalle and his family dynamics; hopefully, a reunion with his brother Cade is forthcoming.
That wraps up NCIS: New Orleans for the year; it will return with new episodes in 2015. Until then, I wish you all holiday blessings - especially those serving in our military at home and abroad, and the families that wait for them.
Catch up on all the excitement of the latest entry into the NCIS franchise right here at TV Fanatic when you watch NCIS: New Orleans online.
It's up to you, now, NOLA fans! What did you think of "Stolen Valor"? Was the rescue story overly-sentimental? Are you looking forward to a LaSalle family reunion? Let us know in the comments below!