The residents of Storybrooke scrambled to find a way to stop the spell of Shattered Sight before it descended over their town on Once Upon a Time Season 4 Episode 10.
When Elsa finds Anna's necklace, she and Emma are able to perform a locator spell to find Anna but when it leads them to a dead end of a tunnel things look bleak. As everyone else gives up, Elsa manages to break through the wall and she and Emma end up on a beach. 
As Elsa wishes for her sister, the necklace she's holding turns out to be the wishing star and it brings Anna and Kristoff straight to her. 
Even thought Anna has been exposed to the spell and could help make a counter spell it's to late. Mr. Gold has forced Hook to put all of the fairies working on the counter spell into the Sorcerer's hat. 
As the spell approaches, Regina sends Robin away. She locks Henry in her office and herself in her vault. David and Mary Margaret lock themselves in separate jail cells and give Neal over to Emma. They believe that Emma's special powers will help to save them all.
Watch Once Upon a Time online here at TV Fanatic.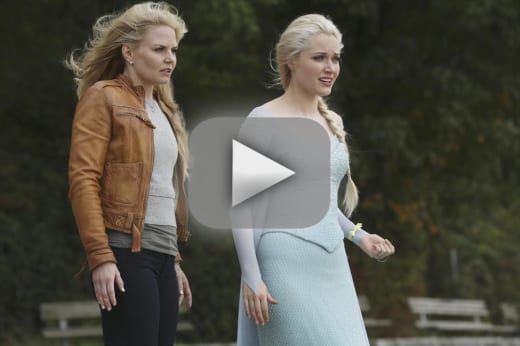 C. Orlando is a TV Fanatic Staff Writer. Follow her on Twitter.