Pretty Little Liars Season 5 Episode 13 Review: How the "A" Stole Christmas
Leigh Raines at . Updated at .
Since Rosewood is unintentionally one of the spookiest towns on earth, it makes sense that the writers of Pretty Little Liars treat us to an annual Halloween special.
This year, however, they decided to toy with our holiday emotions a different way by switching to a Christmas special!
On Pretty Little Liars Season 5 Episode 13 the liars attended Alison's Christmas Eve charity ball in order to spy on her and gather some intel.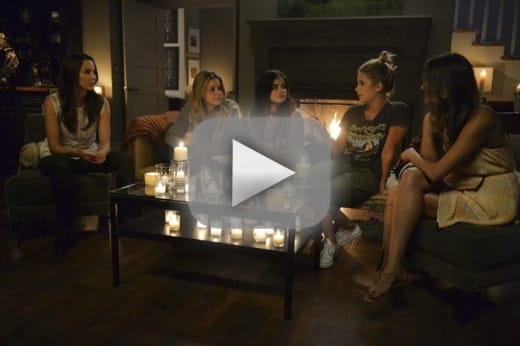 Not everyone was initially into the holiday spirit, but a little gift from Mona changed things.
I'm abstaining from Christmas this year, remember? When you're out on bail for murder it just feels like the right thing to do.

Spencer
Mona left papers for Hanna to be delivered within 30 days should anything happen to her. By the way, if you're in high school and you're being stalked and bullied so much that you have to create a will, you have a MAJOR problem.
Clad in gorgeous silver and white embellished gowns, they arrived with their equally good looking arm candy. And HELLO can we get a screenshot of that "gesture" from the end of the episode?!
Once Alison made her entrance with her new posse, perfectly timed, with a theme song in the background, Hanna and Spencer were free to bounce. The papers were floor plans of hiding places in Ali's house. I have a feeling those papers will come in handy for the rest of Pretty Little Liars season 5.
Discoveries included a Holly Golightly inspired passport, classified ads, pen pal letters with Bethany, and a random assortment of crap I'm sure will be relevant at a later time. Hands down, my favorite moment was the reference to Home Alone 2 when Hanna hit play on the tape recorder and it was Alison yelling to stay out of her stuff.
Kevin McCallister Talkboy flashbacks!!!
Toby was in a very Rear Window position spying from Spencer's window or, rather, keeping watch. You know that PLL has been referred to by the writers and directors as "Hitchcock for Teens" and it really is! Well, A got into the house and knocked Hanna out. When Spencer was comforting her after, eyes peeked out from behind the Halloween mask that looked very much like Cece Drake's.
And who happened to swoop into town earlier that evening, but Miss Cece Drake!
There was the usual amount of shady business and spookiness on the Christmas special, as well as great fashion, cheesy puns and some ridiculous scenarios. However, we suspend reality because this is, after all, Pretty Little Liars.
The most interesting part of the episode was definitely Alison's flashback about finding two yellow sweaters. Mrs. D, in a great cameo, said Ali had to lie and say there was only one sweater so that Mr. D wouldn't leave them. Then later on we found out Ali knew Bethany and invited her up for Labor Day. It seems to me the twin theory is running STRONG right now...
If you want to see Hanna tell mini mean girls, "Bitches get buried in Rosewood," then watch Pretty Little Liars online. See you all January 6th. Merry Christmas to all and to all a good night!
And here is your first look at Pretty Little Liars Season 5 Episode 14: