State of Affairs Season 1 Episode 3 Review: Half the Sky

Krystal Sondel at . Updated at .
On State of Affairs Season 1 Episode 3, Charlie uses her back channels to rescue a group of Nigerian girls. By back channels, I mean Nick, who is willing to help for a price. 
Charlie knows what needs to be done to save the girls, but in the same breath she knows POTUS can't officially send in help because it could make the President look weak.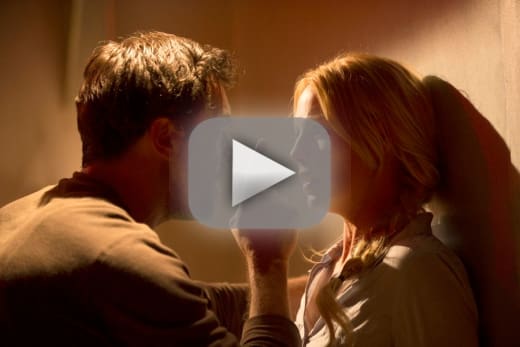 Damn, politics is rough. As Constance pointed out, having power and not being able to do anything with it, sucks. Well, those weren't her exact words, but you get the point. It sucks. Fortunately for her, she has the CIA who can take care of what needs to be done. 
From what we've seen so far, Charlie has become emotionally attached to all the top priorities in the book. In a job like hers, I'd imagine that getting emotionally attached is not recommended, and I worry it will come back to haunt her. Perhaps it already is with Aaron's storyline. 
In the end, the main storyline worked out again for Charlie and her team (not that I'm rooting for them to fail, but will they, ever?) As Charlie's team worked to pinpoint exactly where the girls were being held, I enjoyed watching Charleston Tucker bring it all together. She rocks at her job, and I think even Navaro is warming to her a little. Scenes in their "situation room" are what will make this show shine, and I'm hoping we continue to see these moments unfold. 
Tonight's episode brought Nick and Charlie together on a case, and we learned a little more about their relationship, although much still remains a mystery. They've known each other for at least five years, and there is obviously some sexual tension between them. Were they in a relationship before she met Aaron? More importantly, could they have been in a relationship while she was with Aaron?
We learn from Sid that Nick checks out and isn't the one sending Charlie the texts and photos, so someone out there knows too much. I still haven't  solidified my theory yet on who that could be, and I think that's partly because there are so many storylines to watch unfold. 
This week's episode is getting my lowest rating because it felt jumbled. Too much was going on, and while I get that it's early and they need to lay the ground work, tonight's episode tried to jam pack so many storylines that I didn't feel myself getting all that invested in any of them. 
First we have Charlie's staffers Maureen and Kurt; one is going through a divorce and the other clearly has feelings for her. Then, we have POTUS and her husband arguing over releasing information on Aaron's death. Just how much does Constance Payton know? 
We can't forget about Lucas and Navaro and what their true motives are, PLUS Sid and just who he is exactly (could he be Charlie's Dad?)
My biggest hope for the rest of season 1 is that they take more time to develop characters and stop giving us very tiny snippets of the big reveal that are supposed to carry us through. 
Other quick thoughts:
Nick had a gun all wrapped up which was revealed at the end of the episode. My money is on that being Aaron's gun. 
Constance made reference to the fact that she was a woman, and not as respected in her job as a man would be to the Chinese President. I'm glad she held her own and gained the respect she deserved.
The actresses playing the Nigerian girls were incredible. Kudos to them on a phenomenal job. 
If you became lost in the storylines tonight, don't forget you can watch State of Affairs online and catch what you missed. 
Which characters are you more interested in seeing develop the rest of the season besides Charlie and Constance? Do you have any theories on who is texting Charlie?
Let me know your thoughts in the comments below and we can keep the discussion going. 
Krystal Sondel is a staff writer for TV Fanatic. Follow her on Twitter.