Supernatural Season 10 Episode 8 Review: Hibbing 911

Sean McKenna at . Updated at .
If you're a fan of Sheriff Jody Mills, you may have enjoyed Supernatural Season 10 Episode 8.
If you remembered Sheriff Donna from Supernatural Season 9 Episode 13, which I did not (thanks for the quick flashback) then you really know your Supernatural characters.
Because while this was certainly a case of the week, it really focused more so on Jody's handling of the particular monster and being able to introduce Donna to the world of the supernatural. You know, like a buddy cop episode.
Unfortunately, I could have done with less of the sheriff duo investigating the monster kills.
I feel like there was supposed to be this entertaining back and forth between the two very different characters of Jody and Donna, but the shtick – especially Donna's cartoon-like character – wore thin rather quickly. The story itself felt relatively bland.
It was good to see that Jody has grown more when it comes to facing off against monsters. She still may be sort of new to the hunting business, but there was a much more determined and matter of fact approach in her investigation.
Plus, whipping out the machete was a nice touch. I was not expecting that.
I even thought the flashback to her husband's death by her own zombie son was a simple moment showing how far she has come. Her relationship with Sam and Dean also is solid and much more "family" when they see her.
While they didn't wait for another call from her, they definitely seem more trusting in her ability to handle a situation or be the one to tell Donna all about vampires and things that go bump in the night.
Yet, I still felt like it was far too much Donna and Jody, and kept waiting for more Sam and Dean.
I was definitely pleased they touched on the brothers trying to find information about the Mark of Cain. It honestly was feeling as if the two had forgotten all about it, so seeing them pouring over all the lore in the Men of Letters was a good acknowledgment they are trying to do something. The info just isn't there.
Even Jody offering to talk with Dean added recognition that she, too, is there for him.
At it's core, this was a monster-of-the-week installment, and one that focused on hippie-like vampires, but we didn't even discover that until it was almost over. They seemed rather easy to take out, too, with even Donna swiftly able to dispatch of the lead vamp.
While the hour did have some entertaining moments, I mostly felt bored by the story. I would have rather had Sam and Dean at the forefront with the sheriffs lightly mixed in, but at least Jody and Donna survived. So often when a familiar face returns, it's for an early grave.
If anything, with Dean's last comments about the Mark of Cain, I was glad we're done with Hibbing and heading back on that larger Supernatural Season 10 story arc. I'm looking forward to that, you betcha.
What did you think of the return of Jody Mills? Did you enjoy her team-up with Donna? And watch Supernatural online to make sure you're all caught up before the midseason finale!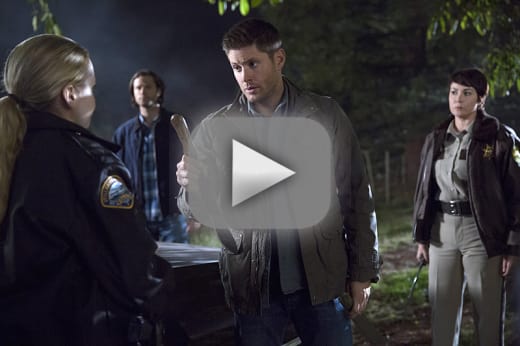 Sean McKenna was a TV Fanatic Staff Writer. He retired in May of 2017. Follow him on Twitter.