The 100 Season 2 Episode 8 Review: Spacewalker

Carla Day at . Updated at .
Have you regained your ability to breathe after that heartbreaking death?
If you haven't watched The 100 Season 2 Episode 8, "Spacewalker," yet, please do not keep reading. Watch the episode and then come back and read the review.
This episode is too brilliant to ruin by being spoiled. You will miss out on journey of who, how and why the person was killed. Seriously, go watch first no matter how much you want to know.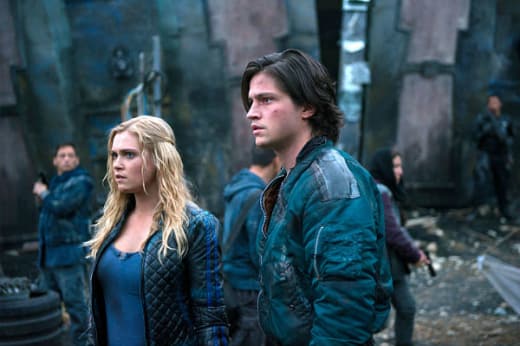 As sad as I am that Finn died, I was more affected by how his death came about rather than by his actual death. I liked Finn and will miss him, though at the moment of his death my focus was on what Clarke's decision will mean for her, Clarke's relationship with her own people, and the potential alliance between the Arkers and the Grounders.
The entire hour was spent trying to save Finn, but in those final few minutes after all possible negotiations, ploys and pleas were fruitless, Clarke took it upon herself to save her love the only way she knew how. She killed him quietly and relatively painlessly after declaring her love for him. It was a mercy kill to prevent him from suffering "the pain of 18 deaths."
Even though I knew someone was going to die before I started watching "Spacewalker," I kept expecting a realistic twist which would save Finn's life. After all on The 100, anything's possible. The belief that anything can happen on The 100 makes an episode like this one even more suspenseful.
With each attempt to save Finn's life, I believed it was possible his friends could save him, but it was equally possible they couldn't. On most television shows, you never fear for the life of a series regular. If he lived, I expected someone else would suffer the consequence instead of him. Friend or foe, someone was going to die because of Lexa's demand. 
Is saving the life of one worth risking the lives of many? The Arker-Grounder difference in their code of justice and retribution played out through Finn. While Abby wasn't willing to sacrifice one to protect the many, Lexa was willing to kill all the Arkers for Finn's actions and their unwillingness to turn him over. And, it's important to note that some of the Arkers supported sacrificing Finn to the Grounders too. 
"Blood must have blood."
Finn's escape from Camp Jaha to the drop ship with Clarke and Bellamy eliminated Kane's option of an Arker trial and possible execution of Finn. Would that have been an acceptable resolution? According to Lincoln, that was never an option. The Grounders suffered a loss of 18 of their own and wanted retribution for their loss. No mercy.
Through the flashbacks of Finn and Raven's relationship on the Ark and how he got locked up and nicknamed Spacewalker, he was  humanized once again and viewers were reminded of the free-spirit, loving Finn we first met instead of the mass killer he became. It made his death all the more bitter. Finn died because he saved Raven from being floated on the Ark and believed he was protecting Clarke on the ground. They owed him their lives.
Raven was willing to sacrifice Murphy in order to protect Finn. Yes, Murphy was also a killer, but Finn wouldn't allow Murphy to suffer for his actions. Instead, Finn turned himself over to the Grounders to save those he loved and the rest of the Arkers. He once again put those he loved above himself. When he turned himself over, I thought it was done that he would be tortured and killed, but again this show surprised me.
From the moment Clarke decided to go talk to Lexa and Raven gave her the knife, I held out hope that Finn would be saved. Clarke's plea provided a moment of hope, yet I knew what Clarke didn't from Lincoln's advice that Lexa couldn't be merciful. Even Clarke's proclamation that she was a killer wasn't enough. Finn was going to die for her.
The last moment of hope came as Clarke said goodbye to Finn. He could still be saved, right? Clarke could cut Finn's restraints and tell him to run when she attacked Lexa. Until I saw the blood on the knife, I didn't realize what had happened. After rewatching, it was clear that there was never any hope. Clarke knew what had to be done to help Finn.
She said she loved him and with a discreet move of the knife she saved him from a death of fire, cut hands, tongue and the sword. She saved him and with his final breath he replied, "Thanks, Princess."  He found peace in his death.
While the mid-season finale didn't have a traditional cliffhanger, Clarke's actions will have far-reaching consequences for her, her people and the Grounders. When The 100 returns in January, I'm anxiously looking forward to the confrontation between Clarke and Raven. Both Eliza Taylor and Lindsey Morgan had stand out performances showcasing their characters' feelings of responsibility and grief over Finn's situation, especially in the final minutes.
Overall, this was a heartbreaking hour of television and one of the best I've ever seen. The 100 has positioned itself over the first season and a half to be a series where anything is possible. The episode's  pacing, twists and turns, and hope after hope of a positive resolution tricked me into believing it was possible to save Finn when in all reality it was never truly probable.
As Lexa said, "It is done."
Are you sad to see Finn gone? Was it the only way to resolve Finn's massacre? Should Clarke have killed him? What do you want to see next when the series returns in January? Hit up the comments with your thoughts!
So much happened in the mid-season finale, so watch The 100 online again!
Carla Day is a staff writer for TV Fanatic. Follow her on Twitter and on Google+.