The McCarthys Season 1 Episode 6 Review: Why Guys Shouldn't Date a Sister's Ex

Krystal Sondel at . Updated at . Comments
You should never date a friend's ex. It's one of those unwritten rules we all should follow. If you shouldn't date a friend's ex, you definitely should not date a sibling's ex. But, that's exactly what Ronny did on The McCarthys Season 1 Episode 6. 
After running into Tommy, Jackie's high school ex, Marjorie, Arthur and Ronny find out he is gay, and Marjorie instantly tries to hook him up with Ronny.
Oh Marjorie. It's clear Marjorie herself had somewhat of a crush on Tommy, and this is her chance to get him into the family again. She has no problem meddling in her kids lives, does she?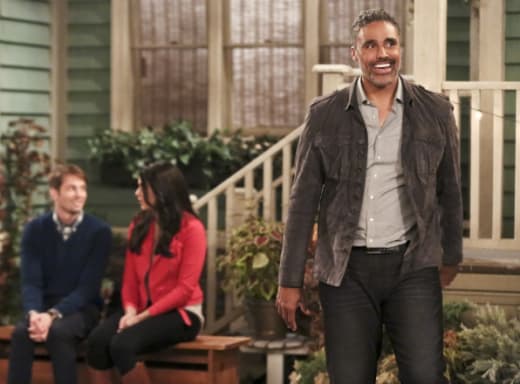 The verdict is still out on how I feel about Marjorie. She was starting to grow on me the past two episodes, but I didn't love her meddling tonight. She is the new version of Marie Barone from Everybody Loves Raymond. (Shout out to one of our TV Fanatics who compared The McCarthys to Everybody Loves Raymond last week.)
Ronny reluctantly agreed to go out with Tommy and the two ended up really hitting it off. They made a cute couple, but I didn't get too invested, I figured the relationship was doomed from the start. 
After running into the new couple at the card store, Jackie knocked over a display saying that everything was just great and stormed out. It led to an awkward night at the McCarthys for Gerard and Sean's birthday that culminated in Tommy telling Ronny he couldn't date him anymore.
Speaking of Gerard and Sean's birthday, Sean bought Gerard a pretty great gift, Rick Fox. Yes, actually Rick Fox, former Boston Celtic. There's apparently a website where you can rent retired athletes. I need to find out if a website like this really exists. There are some former athletes I'd enjoy hanging out with for a few hours. 
The episode wrapped up with a cute moment between Ronny and Jackie and I really appreciate their relationship. I loved Ronny's cashew digs throughout the night. 
The McCarthys continues to grow on me. I'm enjoying being a part of their family on Thursday nights and hope CBS really gives the show a chance. I don't watch many comedies on television, and this is a good laugh between all the dramas. It's good, wholesome, family fun, without being raunchy, and just the right amount of corny. 
Other quick thoughts:
Another reason why I love Arthur McCarthy – he holds sports grudges. Note to anyone out there who runs into a die hard fan taping a game, don't tell them the outcome. You don't want to become the spoiler alerter!. 
Sam Adams and John Adams – someone come up with the rest of that joke. Bostonians, I'm looking at you!
Don't forget to watch The McCarthys online, and enjoy the eye candy that is guest star Rick Fox. 
So which athlete would you like to rent for two hours? Who is your favorite McCarthy character thus far?
Chime in on the comments below. 
Krystal Sondel is a staff writer for TV Fanatic. Follow her on Twitter.