The McCarthys Season 1 Episode 7 Review: Arthur and Marjorie's Night Apart

Krystal Sondel at . Updated at . Comments
Would you be able to survive without your significant other if they were gone for a night? That was the big question on The McCarthys Season 1 Episode 7. 
After Marjorie finds out she needs to have surgery and will be at the hospital overnight, we learn it's the first time Arthur and Marjorie will be apart for a night – ever. Marjorie, being Marjorie, decided to leave Arthur an emergency packet of information, but he insisted he would be okay.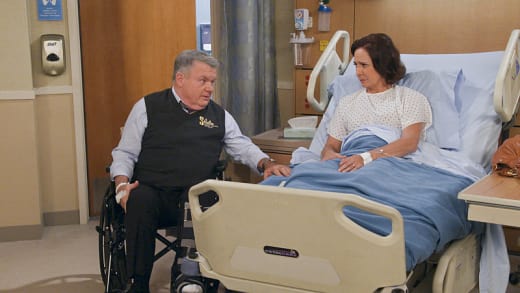 Well, of course, he wasn't. His lack of knowledge on how to make a grilled cheese sandwich ended him up in hospital with a sprained ankle. He tried to cover it up, but ultimately Marjorie found out.  
I'm just going to put this out there; I love Arthur McCarthy. He is adorable. He had another great one-liner tonight, which continues to prove how much he loves his wife and family. He always says the right thing. They made him out to be a very helpless man tonight, but he's developed into my favorite character on the show. 
If anything happened to you, I'd need more than a packet.
The family dynamics and the McCarthy children's stark differences were interesting to watch unfold. I come from a family where I'm the only girl, and if truth be told, I'm probably a little bit on the dramatic side like Jackie is. I can't say I'm squeamish like Gerard, but I think I have some Ronny in me too. 
I'm glad we are starting to see a little more character development with the McCarthy children. They are all so unique and each bring something enjoyable to the television screen to watch. 
The McCarthys have turned into my favorite television family in just a couple months. The show started out slow for many, including me, but over the past few weeks they've offered incredibly relatable stories that mixed in the right amount of comedy. 
My only criticism, and I think it's somewhat to be expected, is that the show is predictable. There's really no guessing what's going to happen, but I'm still finding it really enjoyable to watch it play out. 
I don't watch many other comedies, but I'm really happy I stumbled onto The McCarthys. I think the show has a lot of potential and I hope it makes the cut and is back again next season. We need more good, wholesome, family comedies on television these days. 
If you need a break from all the great dramas on television today, watch The McCarthys online, and laugh along with the McCarthy clan. 
So which McCarthy child are you most like? Are you squeamish like Gerard or a little dramatic like Jackie? Comment below and let me know how The McCarthys first season is faring for you.
Krystal Sondel is a staff writer for TV Fanatic. Follow her on Twitter.