When I learned there was a new character making her way to Girlfriends' Guide to Divorce who could either stir the waters or calm them, I decided to reach out to Alanna Ubach, who has been tapped to round out the cast as Abby's old college friend, Jo.
Alanna has been watching along with us and she thinks it's fantastic. She loves it because "they're hands on moms and in spite of the fact they're going through one of the toughest periods in their lives, they're great mothers and good friends and they're loyal." In fact, Alanna suggested while they're not typical Midwest stay at home moms, they almost fill the bill as the husbands in their respective relationships.
We agreed keeping the focus on family although the women are going through divorces really keeps the show grounded. Alanna continued, "It's not like, hey! I'm going to put on high heels even though I'm going to the super market and buy a Ferrari and date really young guys. There is still so much emotional content behind all of that, [making] it so fun to watch."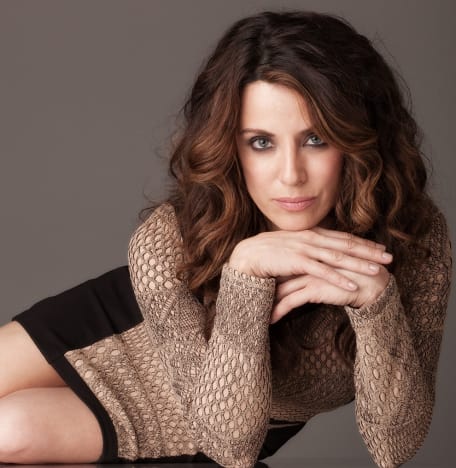 There is one character who stands above the rest for Alanna, however. "It's funny, because I'm not being biased, but maybe I am, but Abby does break my heart. It seems like everything she does is painful because it's so new. In a way she is like a fish out of water because she is going into the unknown, not really knowing what's going to happen with her career and her family and she can just barely hang on.
"She's on like a sinking ship and she's constantly filling these pot holes and so vulnerable and you just constantly want to hold her."
Jo is Abby's college buddy from NYU; as Alanna calls her, "that old Facebook friend who refuses to face the fact that you've suddenly unfriended her without the help of that awful button." Representing youth and life pre-marriage and pre-pregnancy, they share a strong bond that never really breaks. Jo Facebooks Abby, telling her she may be opening a branch of her successful New York bakery in Los Angeles.
Alanna explains, "She decides to stay and kind of weasels her way into Abby's life without Abby really saying that it's OK for her to stay there. She's very pushy and Abby is such a sweetheart and probably is very hesitant to step on any toes, to even allow Jo to know what is really going on in her life and meanwhile, Jo is threatened by Abby's new-found life and friends."
While Abby hopes Jo will fit right in with her friends and then leave, Jo extends her stay. She also fails to mince words, leading her to share her feelings with Abby about her new lifestyle. "I'm intimidated by the new Abby and there is finally a major unanticipated confrontation between the two of them because I do discover, as I'm clocking her every move when I'm visiting her, that yes, she's going through some major relationship issues right now and she's trying to hide it. So the cat's let out of the bag and bitter, biting words are exchanged and unable to be taken back and they grow closer."
Jo and Abby led parallel lives since college. They were even pregnant at the same time. Alanna explains:
"Now Abby lives in this beautiful house in the hills of Los Angeles and Jo herself has opened up this vegan bakery in New York. But we don't exactly know why she's abruptly left New York and decided to open up a bakery in Los Angeles, and that's when the fun begins. She's hiding something and that will be revealed later." Alanna laughed, "It's funny, because for someone concealing as much as she is, she's shamelessly unconcealed and she's audacious and caustic and fiercely loyal and loveable, with so much integrity I think it gets her in trouble sometimes."
With Jo's candid approach, might Jo finally be the friend we've been waiting for to give Abby advice she needs instead of wants? "Oh absolutely," exclaimed Alanna, "The one glimpse we get into Abby's life of family has been broken apart so this piece of her past is finally coming back to her and saying, 'you know what? You're doing this wrong and what is going on with you and I used to love you, but now you're talking weird and dressing the way you are and who are you? I remember the Abby...' And actually, she criticizes her writing, as well, and that hits her below the belt."
Jo probably read a lot of Abby's while they were at NYU and the expectation was she would be a brilliant playwright or novelist and to see that turned into a woman churning our mommy books was too much for Jo. Alanna thinks she does need to hear it because, "As close as her new found girlfriends are to her, they're still already established, and when you find new friends when you're older, you can reinvent yourself in many ways," whereas an old college friend can come back and wonder; who are you trying to kid?
We talked briefly about the roles of males and females in relationships and divorce and how they're portrayed on GG2D.
"Ironically, face it, there are more divorcees in history now than there have ever been, so I'm kind of proud to be representing that part of the female population who should never be ashamed of the D word or when it comes to backing out of an unhappy marriage and moving on with honor or having the penis in the family," Alanna shared.
"Why not wear the pants in the family? Whatever need to be done in order to establish some sort of sense of balance. Why not? There's always discomfort with change and I'm sure that's how women do feel when they take on this sort of male figure in the family. But why should it be called the male figure in the family? Is that why you married him? Did you marry him because you thought he was going to become a big shot? You have to always remind yourself why you jumped into this in the first place. You were friends first and foremost."
Alanna is very excited about the role of Jo because her investment in the character was immediate. It's a dream come true to be cast and it's not always easy to enter an established cast, "but when the cast and crew are exceptional, you can't help but want to do your best work. That's the case with Girlfriends' Guide... When I jumped in, it was as if we had known each other forever."
Be sure to catch Alanna Ubach tonight as she makes her first appearance as Jo on Girlfriends' Guide to Divorce Season 1 Episode 8 on Bravo at 10/9c.
Carissa Pavlica is the managing editor and a staff writer for TV Fanatic. She's a member of the Broadcast Television Journalists Association (BTJA), enjoys mentoring writers, wine, and passionately discussing the nuances of television. Follow her on Twitter and email her here at TV Fanatic.