There were a number of guest stars on Brooklyn Nine-Nine Season 2 Episode 14,with Eva Longoria returning as Jake's girlfriend Sophia, Chris Parnell as Sophia's boss and the return of Kyra Sedgwick as Deputy Police Chief Wuntch. 
Sophia is acting distant and when she reveals it's because of her boss not giving her good cases because she's dating a cop. When Jake resolves to make Sophia's boss like him, all hell breaks loose.
Boyle and Gina's parents want to get married but Gina refuses to give her blessing. Will Amy's interference help or hinder Boyle in his cause to win her over?
Meanwhile, Captain Holt's nemesis is up for a job promotion in Boston and her fate is in his hands. Will he give into vengeance or take the high road? Let's dig and see what happened!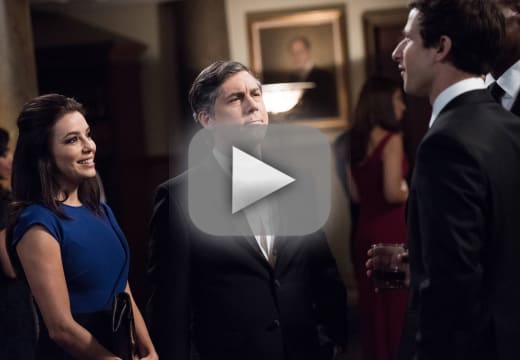 When it was announced that Eva Longoria would appear as Jake's love interest, I was excited and also annoyed because I ship Team Jamy so hard. But then it was also said that Eva Longoria would only appear in four episodes. This was her fourth. It was about time for the inevitable breakup. But I never expected it to happen like this.
Jake is really starting to like Sophia, which is nice. It's obvious there's still a part of him that will always carry a torch for Amy, but he has worked hard to maintain an adorably awkward friendship with her. However, Sophia's job as a defense attorney was in direct conflict with Jake's job as a detective.
When Sophia admits to Jake that her boss, Jeffrey Hoytsman, is tanking her career because she's dating Jake, Jake resolves to cozy up to Hoytsman at an event full of defense attorneys. But like all of Jake's half baked plans, this goes wonderfully awry. Atlantic City was the cause of all this trouble.
Jake surmises that Hoytsman might have a gambling problem and quickly proves this theory correct. When he follows him into a restroom, he sees him with cocaine. If that weren't bad enough, Hoytsman then snorts some cocaine RIGHT IN FRONT OF Jake. Yes, a supervisor of defense attorneys just snorted coke in front of a cop. Chris Parnell plays the role to perfection and this particular scene is definitely a highlight in an otherwise weak episode.
Hoytsman: Okay, it was cocaine! Turns out I was accidentally doing some cocaine.
Jake: Not on accident. You put it in your nose on purpose.
Hoytsman: I don't even think I have a nose Peralta! I certainly cannot feel it. The defense rests!
Back at the 99, Deputy Police Chief Wuntch needs help with a recommendation for a job promotion in Boston.
Wuntch: I'm here on important business. I'm a frontrunner for a job in Boston P.D.
Captain Holt: Boston... But it's so close to Salem. You know what they do to witches up there, don't you?
Rosa: This is amazing.
Captain Holt, being the good guy that he is and with Rosa's words ringing in his head, decides to take the high road. When Wuntch reveals she leveraged that job offer in Boston to get a promotion within the NYPD, Holt is stunned. But, for a moment, he thought he actually got the last laugh in this funny scene:
Captain Holt: But I am still planning to get some retribution. I got her a parting gift.
Rosa: Tickets to "Wicked?"
Captain Holt: In Boston. She's moving to a second class city and I wanted to rub her nose in it. Enjoy the understudies Madeline. Have fun watching some chubby Chenowith knockoff warble her way through "Popular."
Also back at the 99, Boyle and Gina's parents decide they want to marry, but Boyle's dad wants Gina's blessing. She is reluctant and mad at Boyle for backing out of the pact they made to break their parents up.
So you choose your dad over me, a co-worker who hates you?

Gina
Gina eventually reveals the reason for her reluctance – she doesn't want her mom to get hurt and thinks they're moving too fast. They are moving fast, but Boyle's dad is quite the charmer. He charms Gina into giving her blessing. I can't wait to see the weirdest wedding on network primetime TV!
Jake and Sophia break because she thinks they're too different. He even fights for her. This shows Jake's slow maturity since last season. Though the relationship ended after three months, he actually took it seriously and put his heart on the line. It showed real growth and promise. It was for the wrong person who did not share the same feelings, but it was progress nonetheless. Now that Jake and Sophia are over, Jake will need several episodes (or the rest of the season) to recover and then it's on for Team Jamy!
Fanatics, what did you think of "Defense Rests"? Show your love in the comments section and as always, you can watch Brooklyn Nine-Nine online anytime. Until next time Fanatics!
Ariana Guzman is a staff writer for TV Fanatic. Follow her on Twitter.