Leave it to Rick Castle P.I. to turn the case of a missing purse into something worthy of the words mystery and intrigue on Castle Season 7 Episode 12
Even though Beckett is worried about Castle's latest venture, she's still willing to support him in it 100%. So much so that she sends him his first real client. It's not a lost cat or a fan obsessed with his recent disappearance but a missing purse. One that's supposedly worth half a million dollars. But little does Beckett realize that the purse hold vital information to her latest murder case.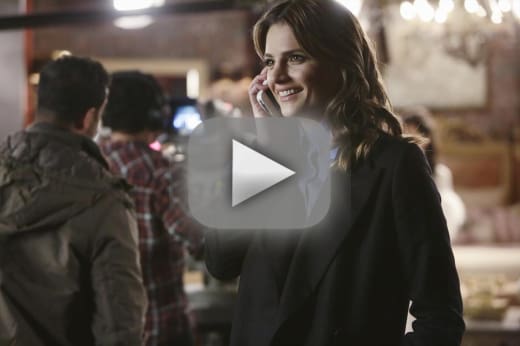 When Rick's case intersects with hers, the two manage some quality role playing in his office, until his client shows up to interrupt their private investigator fantasies. 
But Castle may end up in more trouble than he thought as he stumbles across a murder suspect with a knife and his his own client turn a gun on him. As Rick points out, that's just rude. But leave it to Castle to find his missing purse and more importantly the USB drive that links to a Swiss bank account worth $100 million which will eventually lead back to the killer.
Don't miss a minute of the fun. Watch Castle online right here at TV Fanatic. 
C. Orlando is a TV Fanatic Staff Writer. Follow her on Twitter.