Chicago Fire Season 3 Episode 12 Review: Ambush Predator
Paul Dailly at . Updated at .
Chicago Fire Season 3 Episode 12 found Severide on a mission to find out who was responsible for the death of Shay.
Severide can't let go. It's such a shame. He knows the killer is still out there and wants to make sure they are brought to justice, but will his obsession put others at risk? I mean, it must have been super difficult for Dawson to go to the scene, especially the exact spot she witnessed her friend's demise.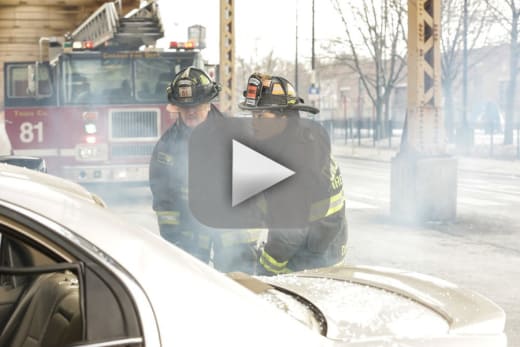 Something isn't quite right with what everyone thought happened in the building. For starters, the fire didn't start were they were told it did; we now have confirmation that it was arson, but who is the killer? We're not anywhere near close to finding out.
Everyone likes Shay, but I think this storyline should be wrapped up fast so we can move on. It's like there is regret from killing her off is and we are being forced to keep her in our hearts. It's unsettling to watch her being brought up every week. 
Elsewhere, Chief Boden appears to be in the bad books with Donna. Rightfully so. His father was being way out of line with his comments about the care of his grandson. Obviously Donna has to learn to look after her son on her own, not having someone in her ear. Then we found out Papa Boden has just four months to live! That was one of the most shocking developments of the night. That sort of explains the way he's acting with Donna. He wants to leave the world knowing his grandson is being cared for. 
Chaplin seems a bit worse for wear, doesn't he? Casey made a respectable decision and at the end of the day the team managed to get both victims out of each car. It was upsetting to find out the Chaplin had no next of kin. Poor Casey felt guilty about it all. It was nice to see that he pulled through and Casey got to see him. We don't see the Chaplin much, but with everyone speaking so highly of him, it's evident he's a decent guy.
One life isn't worth any more than the other. That's what the Chaplin told me when Shay died.

Dawson
We need to talk about Mills. Am I right in saying that he should be the one taking up the offer of therapy? What he did was unethical and wrong on so many levels. Sure, the guy deserved it. He's been smacking his wife around; but, I'm sure there are more legal ways of dealing with these instances. Brett wanted the guy to get his just comeuppance; just look at the way she turned a blind eye. So it was really weird that she went off on one with Mills for lying about the gas canister. Did she want to be the one to dish out the revenge? Maybe. 
Brett: hey, not trying to get in your business. Just checking on my partner.
Mills: I'm fine.
The Casey/Dawson conversations were so freaking awkward. I don't see these two love birds reuniting any time soon. They both need some time apart. It's good that they're managing to work together.
"Ambush Predator" was another solid installment of this fine show. The direction all of the characters are going in is very exciting and I can't wait to find out what's next for them. 
Other bits from the episode:
How crazy was the guy who cut off his fingers? Like seriously, he was high and laughing and joking!
The Herrmann storyline didn't engage me at all. 
Poor Cruz, buying a coffee table for a house he will never live in. 
Remember you can watch Chicago Fire online right here on TV Fanatic if you missed any of the drama!
What did you think of the episode? How do you feel about the whole arsonist plot? Will Dawsey reunite soon? Hit the comments below.
Paul Dailly is the Associate Editor for TV Fanatic. Follow him on Twitter.