Criminal Minds Season 10 Episode 13 Review: Nelson's Sparrow

doug@mediavine.com at . Updated at .
This engrossing and very well written hour of TV could easily have been titled "Endings and Beginnings."
Criminal Minds Season 10 Episode 13 started off with an emotional horror: the discovery of Gideon's murdered body.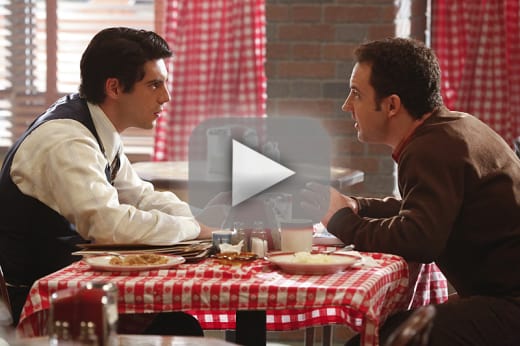 Poor Reid – who apparently was the closest to him – took it quite hard. It was up to Morgan to provide the three words that allowed him to begin to crawl out of the pit of his loss: we need you.
There were so many gems packed into 60 minutes that it's hard to highlight which one shone the brightest.
Hotch telling the story he'd heard from Gideon about a snowstorm, a sled and a ride down Rattlesnake Hill at top speed seems to be the best part, and not just because we actually saw that sober exterior of his crack into outright laughter.
A close runner-up might be Young Rossi and Gideon profiling each other, only to learn that both were about to become dads.
Another bit of gold was hearing Gideon ask Rossi what his middle name was (Stephen), so that he knew what to call his newborn son later on.
Man, there was so much.
As AJ Cook told us a few weeks ago, Ben Savage as Young Gideon was incredible! I agree with her too: he just was Gideon, right down to his mannerisms and speech patterns. Plus, the way he physically looked, with his facial features and mostly sober attitude, it wouldn't be too hard to imagine him as a young Mandy Patinkin.
It was so interesting to discover that this cold case was the impetus for the creation of the BAU. You could almost hear Rossi's suppressed laughter at telling Reid that the three-person unit used to be referred to as the BS Unit. 
The numerous flashbacks allowed us to get a sense of the impact of Gideon's death on Rossi, so that it was easy to understand his decision to put his gun down - practically telegraphing his desire to shoot Mallick down rather than take him to  prison.
Plus, the ugliness of the torture Mallick put his victims through made it tough to have any kind of sympathy for him... especially after he bragged about it, and bragged about killing Gideon as well.
This episode had the perfect mix of back story, character emphasis and case-of-the-week puzzle. No doubt this has a lot to do with the fact that Kirsten Vangsness and Erica Messer co-wrote it. You know, it wouldn't bother me a bit if the pair of them collaborated on another one or two – or ten – episodes.
This one was so well put together.
The only thing I didn't get was why the unsub was trying to turn his victim into a bird. We get that his aunt was a member of the bird watching club, and that she died when he was still quite young. There was just a disconnect there that never quite married the two events – her death and his decision to find a young woman to replace her.
It was all creepy and as such vintage Criminal Minds – but....it didn't quite make sense. 
Final thoughts:
The song playing at the end was Edge of the Dark, by Armon Jay on the album Everything's Different, Nothing's Changed.
Rossi and Gideon joking about getting a private plane.
Hotch's quote of Euripedes at the end – When a good man is hurt, all who would be called good must suffer with him – was also quoted by Gideon in Season 1 Episode 5 "Broken Mirror"
Some of the Criminal Minds quotes are gold, especially Hotch's recollection of a story told to him by Gideon.
What are you thoughts on this episode? Do you empathize with Rossi's decision? Were there any other "gotchas" that were missed here? If you're unsure, be sure to watch Criminal Minds online and then chime in on the comments below!
Douglas Wolfe was a staff writer for TV Fanatic. He retired in 2016. Follow him on Twitter
.