Maggie walked in on Brady and Melanie, Clyde became the hillbilly saint of Salem and Jennifer prodded JJ to tell her who he slept with this week in Salem.
Our TV Fanatics Nick McHatton and Christine Orlando are joined by Kpatch and Fluffysmom from MyHourglass a Days of Our Lives fan forum to debate the love potential between Lucas and Adrienne, which couple they find the most disappointing and who had their favorite scene on this week's Days of Our Lives.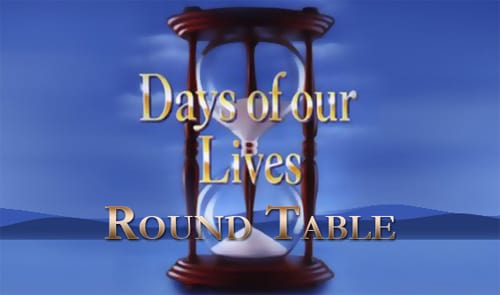 Do you think Lucas and Adrienne have potential for a love connection? Do you want to see them go there?
Nick: They were certainly pushing it extensively during the babysitting date. I'm all for Adrienne and Lucas getting screen time; I'll keep an open mind.
Kpatch:  If it means Lucas gets a storyline, then yes. I don't always like Adrienne's nosiness or her judgmental nature, but maybe getting involved with Lucas is just what she needs. Justin is off-canvas, and all is fair in love and soaps.
Fluffysmom:  I'm enjoying their friendship. If they are going to get together I prefer Adrienne be separated from Justin. I don't think Lucas would sleep with a married woman after being cheated on himself. I am thrilled to be seeing Lucas onscreen more often.
Christine:  I love these two as friends. As more than friends…well I've always liked Justin but if he's not coming back then perhaps he and Adrienne should separate so she can have more of a story line. If that's with Lucas then I'm at least open to seeing where that goes. 
Which couple is disappointing you the most in Salem?
Nick:  I really, really hate douchey Will right now. Everything he does is about advancing his career, and is an absolute stranger to his former self. There's no sense of good in him, there's no real remorse for his action, and he's working on every last nerve of mine.
Kpatch:  Nicole and Daniel. I feel no chemistry between them (even if they're a couple in real life). It feels like they're just going through the motions.
Fluffysmom:  I'm not excited about Melanie and Brady getting together all of a sudden. I like the brother and sister sort of relationship they've always had. Maybe the actors and writers can surprise me.
Christine:  Eric and Serena. I'm so tired of these two and they've barely been on screen. I'd love it if this pairing ended before it even got started. 
Will Maggie be able to keep her mouth shut about Brady and Melanie?
Nick: I can't remember Maggie ever keeping a secret, but if we're lucky her spilling the relationship might doom it for good!
Kpatch:  I fully expect her to slip up and say something to Daniel within 48 hours.
Fluffysmom:  It's pretty unlikely unless a lot of AA folks are in need of her help.
Christine:  As an AA sponsor Maggie is often tasks with keeping her mouth shut. Will that spill over into keeping this secret? Odds are, she'll crack. I just hope she tells Victor and not Daniel. Daniel needs to hear this news from Melanie. 
Was Jennifer prodding JJ about who he slept with and whether he used protection reasonable or weird?
Nick:  Making sure he's using protection is reasonable, but the rest of her meddling is still weird.
Kpatch:  I think it was reasonable. He may be over 18, but he lives under her roof and she is still responsible for him. So if he there's a chance that he's going to be a father, Jennifer might wind up raising the kid. I don't blame her for wanting to know.
Fluffysmom:  I think it's reasonable that she's concerned about protection. The last thing JJ needs right now is a baby. I'm sure Jennifer is as confused as Paige as to why JJ slept with another girl. 
Christine:  Jennifer being this involved with JJ's relationships is weird. However, the question about protection was reasonable, but ill timed. JJ was already quite upset. I'm sure that came across to him as you're so irresponsible. Did you screw that up too?
Do you think Jordan intentionally killed her mother? Do you care?
Nick: Can't muster even a single care! Next.
Kpatch:  Option B: I don't care.
Fluffysmom:  I doubt it. If this story hadn't been so dragged out I would probably care. Call me somewhat curious at this point.
Christine:  I don't care in the least. I've been hoping Jordan would leave Salem for over a year. Now I'm begging. Put this story out of my misery. 
Did anything disappoint you this week in Salem?
Nick: Douche Will is getting on my last nerve, and, as much as I appreciate Guy Wilson's enthusiasm for the role, something feels missing.
Kpatch:  How much time have you got? I think I was most disappointed in Nicole for once again keeping a secret (the tipster with potential dirt on Serena) because she fears it might ruin her relationship with a man. Same story, different guy.
Fluffysmom:  Too much focus on Jordan, Ben and Abby and the charity story.
Christine:  Will taking the dig at Sonny about how he had to take the work phone call inferring that it was all on him since Sonny lost their savings. It was so uncalled for considering that Sonny has supported Will and Ari since the two became a couple. Will becomes more of a selfish jerk every week. 
What was your favorite scene or story line on this week's Days of Our Lives?
Nick: Hope talking about her relationship with Aiden continue to be a bright spot among the boring stories.
Kpatch:  Anne at Victor's new club opening. She was cracking me up the way she was be-bopping around. She needs a man and fast. I also like how we are finally getting a glimpse into Teresa's emotional state. Seems like fans are finally warming up to her and rooting for her, me included.
Fluffysmom:  I enjoyed all of Teresa's interactions at the nightclub opening.
Christine:  Hope realizing that she was in love with Aiden while talking to Jennifer was wonderfully played by Kristian Alfonso. Honorable mention goes to Victor telling Rafe to wear a white tuxedo jacket like Rick from Casablanca for the club opening. That just cracked me up. 
C. Orlando is a TV Fanatic Staff Writer. Follow her on Twitter.