Days of Our Lives rang in the new year with angst, pouting and breakups. When the clock struck midnight it appeared to be one of the unhappiest new years that Salem has seen in years.
Our TV Fanatics Nick McHatton and Christine Orlando are joined by Kathy and Kpatch from MyHourglass a Days of Our Lives fan forum to decide whether Sonny and Will will survive 2015, which new couple is worth rooting for and who had the worst New Year's Eve?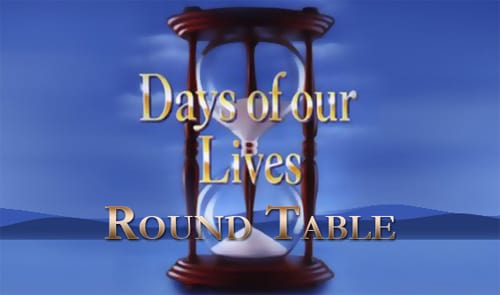 Was Jennifer right to confront Eve about JJ and Paige?
Nick: The better question to ask: is Jennifer ever right? Magic 8 Ball says don't count on it. Jennifer needs something else to obsess over aside from her children. They are grown adults, and she needs to figure out a new way to be in their lives. 
Kathy:  No - I think Jennifer should stay out of JJ's romantic problems. I think her rushing to confront Eve had more to do with Jennifer and Eve than it did with Paige and JJ.
Kpatch:  Not sure she was right, but I can understand, given the history between Jennifer and Eve, that she would suspect Eve was responsible for their kids' breakup. She's a mom and she wants to see her son happy.
Christine:  Jennifer needs to stop treating her kids like they're 15-years-old. And how does she think confronting Eve is going to help anything? I can't imagine what Jennifer is going to do when JJ and Abigail finally move out on their own. 
Who had the worst New Year's Eve in Salem?
Nick: Rafe, his sister is in jail and he just got canned.
Kathy:  Maxine - she had to work and also put up with Daniel's foul mood.
Kpatch:  I'm going to say Nicole because her expectations were built up and then came crashing down. She lost her date and her best friend in one fell swoop.
Christine:  I think it's a tie between Nicole and Rafe for all of the above reasons. Perhaps they should share their misery. 
Do you think Sonny and Will's marriage will survive 2015?
Nick: I'm really not sure I want it to. As much as I used to love Will and Sonny, the writing for them has been absolutely atrocious. Will's written one article and now he's a hotshot writer solely focused on advancing his career, and while doing so he's dismantling himself away from his family and values. Sonny, on the other hand, is letting his pride go to his head over this other location. Enough is enough for this club we'll never get to see; I'm all for bad business deals and poor choices, but it's time to pull the plug on the TBD 2. Give Sonny a better story than working with an imaginary second location.
Kathy:  Probably but there are a lot of problems they need to work on. Their first priority should be learning to communicate.
Kpatch:  I'd be surprised if it did. I don't think they have a strong enough foundation and they have been growing apart for months.
Christine:  It's sad because this was a couple that I rooted for but I haven't felt the same about them since Will was recast. At this point, I'm not sure they'll survive the new year and I'm not even sure I want them to but with Ari involved, any breakup will be complicated and very painful. 
Serena and Eric, Nicole and Daniel, Melanie and Brady. Which if these three would you like to see together?
Nick: None of the above! Ship Serena back to where she came from, kill off The Freaking Jonas Family, and set up a love triangle between Nicole, Eric, and Brady.
Kathy:  If I have to pick one - Serena and Eric. None of these couples seem ideal. 
Kpatch:  Of the three, I'd say Nicole and Daniel are most well-matched. I have zero attachment for Serena and Eric. I don't see or feel the chemistry despite how hard the show is trying. Melanie is way too young for Brady, both chronologically and emotionally. She seems to go out of her way to act like a third grader.
Christine:  The show has put a lot of energy into setting up these three couples and I have no interest in any of them. Serena is creepy, Nicole and Daniel should be friend zoned and Melanie acts so childish she makes Brady look mature. Can we get a redo on all three?
Rafe has no job and no love interest. Is it time for him to leave Salem?
Nick: Without Sami to trade insults with or make out with, Rafe seems a little lost. His recent firing is certainly something that is welcomed for story purposes alone. Instead of having Rafe exit Salem, I wouldn't mind seeing him sneak around with Nicole as Private Investigator. Give him a little something to do, and he's a better love interest for Nicole than Daniel Freaking Jonas.
Kathy:  No, I think Rafe should stay and continue to privately investigate Chad and Clyde. Plus, I think Nicole needs a friend.
Kpatch:  I'd be sad if Rafe left. I think he has potential that's been wasted.
Christine:  I like Rafe but he needs a story. I'm all for Rafe Hernandez, Private Investigator and having him partner with Nicole. I'd also like to see these two take the long road from friendship to more than friends. 
Was there anything that disappointed you this week in Salem?
Nick: I really, really miss that Hope and Aiden didn't get any screen time this week. It was the perfect chance for at least one of Salem's couples to be shown having a good New Year.
Kathy:  I was disappointed that Melanie wants to take her relationship with Brady to a new level. I really like them as friends. 
Kpatch:  Yes! Lots of things. 1) Melanie stammering and tripping over herself around Brady like she's in junior high. The writers seem to have forgotten that she's an experienced woman who's been married and divorced. Time to grow up. 2) Nicole disappointed me. She alone is responsible for her latest breakup with a man. She has cancelled out all her prior character development. 3) Serena also disappointed me just by being on screen so much.
Christine:  Two things. First, that Nicole's story never changes. It's always one step forward and then two back when she sabotages herself. It's really boring to watch. Second, where the heck were Aidan and Hope!
What was your favorite scene or story of the week?
Nick: Although he's saddled with Will for the time being, I'm really loving Paul. He's giving some much needed spark and energy to the Will and Sonny, and I'm hoping the New Year brings about more chemistry between Paul and Sonny.
Kathy:  My favorite scene was Melanie's conversation with Gabi. I am glad they reached an understanding and moved on from the past. 
Kpatch:  Paul's reaction to finding out he can't pitch anymore was very well written and acted. I really like Paul. 
Christine:  I really enjoyed Gabi and Melanie's scene together and that Melanie admitted that she would have killed Nick too. Then she finally got to meet baby Ari. It was a nice bonding moment for these two women and for once Melanie didn't come across like a 12-year-old.
C. Orlando is a TV Fanatic Staff Writer. Follow her on Twitter.