Downton Abbey Season 5 Episode 2 Review: The World Keeps Changing

Amanda Wolf at . Updated at .
On Downton Abbey Season 5 Episode 2 the new season was underway and further developed the stories that will be big this season, while also dealing with several other small side plots. 
The radio is the latest emerging technology to send the aristocrats of Downton Abbey into debate over the merits of modern inventions and what they mean for the proper way of doing things.
At first Robert was against purchasing a radio, but when he heard the king was using one to make an announcement to the people he opened up to the idea. Mr. Carson, of course, is stuck in his old ways of being afraid of the change that the radio represents.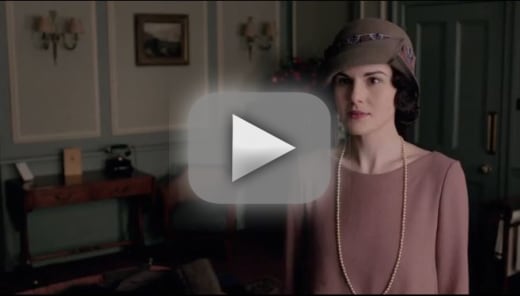 Robert also had to deal with a disagreement with the village of council over where to plant a garden for the war memorial. Robert is in favor of planting the garden in the center of the village, while Mr. Carson and the committee think it should be outside the town in a quiet area. Throughout the hour opinions are expressed and Mr. Carson was eventually swayed to agree with Robert. 
For me, the funniest comment of the night was what Robert said about the art historian flirting with his dog. What is the deal with Mr. Bricker anyway? There has to be more to his story and I am interested to know what it is, especially if he has some ulterior motive for flirting with Cora. 
Robert: And tell your friend Bricker to stop flirting with Isis. There is nothing more ill bred than flirting with someone else's dog.
Cora: Okay, I'll tell him to stop flirting.
I know some of you expressed your dislike of Miss Bunting in the comments on the Downton Abbey Season 5 Episode 2 Review and now I agree with you. Something about her just rubs me the wrong way. She seemed overly self righteous when she was talking to Tom about the man he used to be. 
Edith and Drewe began to put in motion their plan for allowing Edith to spend time with Marigold. Edith is going to take her under her wing and bring her over to Downton Abbey under the guise of doing a good dead for an orphaned child. I suspect the plan will eventually meet resistance from Drewe's wife. 
Somehow, after the use of the massive fire plot device that saved Thomas from losing his job, I actually felt bad about him being sad over Jimmy's departure. Although, I am sure he will do something ghastly soon enough to cure me of my sympathy. 
This was a pretty solid and slow moving installment of Downton Abbey, and then the end happened.
Through the entire hour, Mary was preparing to go on her "sketching" trip, which really is a week long getaway with Lord Gillingham. I felt scandalous watching them reunited in the hotel room, and then we learned from Tony that in a few short hours they would be having a night of stamina-determined passion. Wow!
It's a good thing Mary came prepared and sent Anna to buy what I assume to be the morning after pill. It was also cool to see Mary mention the British historical figure Marie Stopes. It made me think about what influencers are living during this time period and it was cool to see them having an impact on the characters' lives.
However, is Mary more clever than Tony? Will that affect their courtship in these changing times of the 1920s?
I must be sure I am right to want this man, as my friend, as my lover, as my husband.

Mary
Alex Green is not done with Mr. Bates and Downton Abbey as there may be a witness to the fall that killed him in London. Seeing Mr. Bates in jail is not something that excites me considering he has already spent almost two seasons there. Anna and Bates need to be happy without rehashing the murder drama. 
What story has you most excited so far this season? Do you think there is more to the art historian story? Do you have predictions for the future of Mary and Tony's relationship? Sound of in the comments section below! 
If you haven't yet, remember you can watch Downton Abbey online via TV Fanatic!