Downton Abbey Season 5 Episode 3 Review: This is SHOCKING...

Amanda Wolf at . Updated at .
Downton Abbey Season 5 Episode 3 began exactly a week after Downton Abbey Season 5 Episode 2 concluded, with Mary and Tony at the end of their week-long getaway in London.
According to Mary, after dining in public and taking in sights for almost a week it was a wonder they managed to not be seen.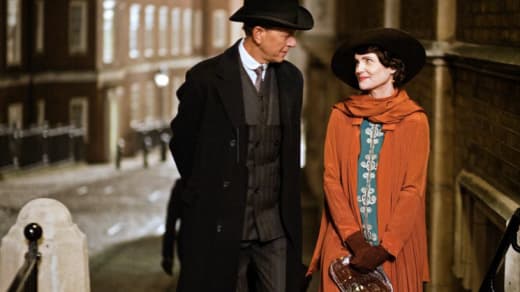 In a somewhat Gossip Girl fashion they were seen by someone, in the more innocent moment of checking out of the same hotel; never mind that, in fact, they had been sleeping in the same room for a week. I say in a Gossip Girl fashion because I don't buy they managed to not be discovered after they rented rooms sharing a door and gallivanted around London together for the entire week.
The person who saw them was Violet's butler, Mr. Spratt, which nicely set the tone of all the interactions between Mary and Violet. 
Despite the fact that, whenever she graces the screen she dominates the scene with her personality, sass and tendency to provide insight, this was full hour of Downton Abbey for Violet. 
Violet immediately came to the realization what Mr. Spratt saw was meaningful, but she managed to sidetrack him and convince him there was a perfectly reasonable explanation for why Mary and Tony were leaving a hotel together. So wily and brilliant, and so true to her character; one of the reasons we love her. 
Mary: Obviously, this is very shocking to your generation.
Violet: Don't let us hide behind the changing times my dear, this is shocking to most people in 1924.
Violet's comment about the changing times struck me as extremely insightful. Sure, England is going through a period of change and liberal ideas are starting to gain some traction, but Violet had a point; most people would have been shocked by Mary's decision.
Part of the proof was in the fact that even Anna felt like she was aiding and abetting sin by agreeing to hide Mary's Marie Stopes book and method of birth control from her family. It was also interesting that as progressive as Mary has become, she was still very worried about her reputation being tarnished again over her relationship with a man. 
A favorite scene was Bates questioning Anna about the bag she was carrying back to their cottage. He was curious about what was in it, but Anna flat out refused to tell him. He prodded some more and she continued to refuse, insisting it was a secret. It was a cute, normal argument that did not involve jail, confessions or Bates being over noble. 
After a witness appeared last week, a policemen arrived at Downton investigating the death of Mr. Green. I said then I'm not enthused about the story, and that continues to be the case. There is nothing interesting about the idea of seeing Anna and Mr. Bates split apart by imprisonment again. Fans went through that for over a season and it was dramatic, but it was already done. It would not be good television to see it play out again.
Friendship was a strong theme in this episode. 
First, there was Miss Hughes and Mr. Carson. On behalf of Miss Patmore, Miss Hughes tried to convince Mr. Carson to include Archie on the war memorial in the village. Miss Patmore claimed Miss Hughes has Carson wrapped around her finger, which is somewhat true, but doesn't carry the right conations to describe their relationship. Mr. Carson thinks very highly of Miss Hughes and has admitted he can't stand it when they are at odds. It didn't work this time and I am looking forward to this being mentioned in the future. 
Mary and Tom had a scene in the library were they were completely honest with each other. Tom admitted that he never believed for a second Mary was going on a week-long sketching trip. When he learned the truth, it didn't phase him one bit and Mary revealed her true feelings about Tony to him. This scene captured everything their relationship is about. They can be completely honest with each other about the things that matter most. In a way, they both feel like outsiders. 
Tom: Well if you love me, you will support me.
Mary: I suppose I have too.
As I hoped and suspected, Mr. Bricker was back and spending time with Cora. The two went to an art museum in London and Bricker expressed his interest in Cora. She, of course, shot him down. 
What struck me the most was when Cora was talking about the first time she came to London. She was fresh from America, where her father was Jewish, but money was plentiful and Cora was pretty. It was great to hear her remember back to what her experience was like, that of an American heiress who was married into the British aristocracy. 
I think Cora found someone she could think of as a friend, or at least someone who gave her attention for the things that make her original. Bicker thought her opinion of art and her story of how she came to be English was interesting. Robert admitted that he pursued Cora for her money and then fell in love with her. 
Of course, Cora did mention she didn't know how to flirt when she first came to England, but she certainly knows how to now. My theory for Cora and Bricker is that their relationship will be ended by Cora. This is still the 1920s and Cora is a woman. Even if she develops an attraction for Bricker I can only see it ended in a kiss between the two before Cora ends things. What do you think?
What did you think of this episode? What was your favorite scene? How will Edith react to Tim telling her she cannot see Marigold? What is Thomas really up to? Why was Baxter being so stubborn about telling Cora the truth? 
Remember you can watch Downton Abbey online via TV Fanatic!