On Episodes Season 4 Episode 3, I don't know who made the weirder connection: Matt rekindling the flame with his ex-wife, or Carol continuing her streak of hooking up with her bosses.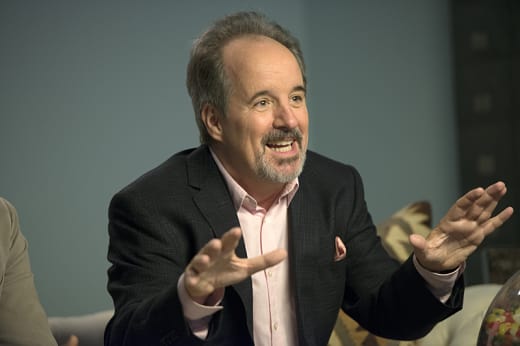 I guess just based on the territory, Carol's situation would have to be weirder. As Helen put it, what is it with Carol and sleeping with her bosses? Carol herself provided us with some good insight – it's the power, the authority, the "daddy issues." But not only did we find out that Helen was a lesbian, we found out that Carol has way more than just "father issues." 
Soo, maybe not just father issues?

Beverly
The ending was pretty perfect. While some could definitely see it as an unnecessary plot twist – I see it as fitting in more than one way. As Carol put it, she has a problem refraining from falling to the allure of power, and boy does Helen come off as powerful as she does beautiful. 
Even if Carol isn't bisexual, I can understand why she had a tough time refusing the woman offering up complimentary bait such as:
My type is smart, beautiful, slightly damaged. Know anyone like that?

Helen
Matt's and Diana's storyline was way more straightforward, but that isn't necessarily a bad thing. Although Matt's kind of a scumbag for getting his wife to drink after three months of sobriety, their evening unfolded pretty naturally. Reminiscing about the time before children, where riding up the coast on any given afternoon was an option, dressing in tight leather was mandatory, and hooking up out of the blue was the norm.
However, now that they are older, and they are divorced, it'll be interesting to see where their recent development takes them.
And that goes for Sean and Beverly as well. Although they're still a perfect couple, and have no troubles on that front, Sean's old writer-friend Tim rolling into town with lawyers on deck isn't a good sign for anyone involved. 
Beverly only got to enjoy being greedy and gluttonous for a brief afternoon before being hit with the bad news – Sean may have subconsciously plagiarized his old work with Tim.
With Beverly already thinking Tim takes secret shots at her whenever he can, this conflict should definitely make things interesting down the road.
Ohhh nooo.

Tim
Merc also got a moment to make an appearance this week, pitching the weirdest game show since Fear Factor (you've heard of Fear Factor right? It's just like that!). The fact that Helen had to accept the show regardless made the pitch even better, and gave her and Carol something to laugh about over a joint when Merc and the creator of the show, all the way from Holland, finally left. 
It's "Survivor" meets "Big Brother" meets "Millionaire" meets "Survivor" all over again!

Merc
Things are starting to get very complicated on Episodes once again, and let's hope that they keep up the internal conflicts – they definitely add to the overall comedy. I'm actually excited to see how the Carol and Helen relationship unfolds, since they had some great one-offs throughout the episode. 
She always looks like she smelled it.

Carol
Watch Episodes online to catch any moments you may missed the first time around, and leave any thoughts you have down below! Are you a fan of Carol and Helen's romance? Or you more interested in Matt and Diana revisiting their marriage? Check out Episodes quotes to catch my other favorite bits, and here's to hoping the season stays as strong as its been!