Forever Season 1 Episode 13 Review: Diamonds are Forever
Paul Dailly at . Updated at .
On Forever Season 1 Episode 13, unique was swapped for predictability.
Knowing we would be centering on Jo prior to the airing no doubt had everyone excited. We were teased that we would get some of her back story – the tease was an incredible let down.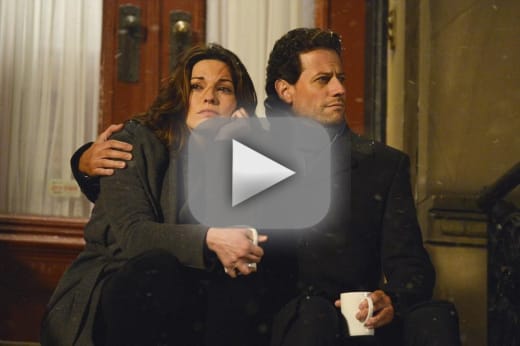 Let's start of with the case. There's no denying the idea was really good. It was obvious by the fact that the killer ran over Aaron, then reversed back over him, that they acted fast. This wasn't an accident.
Jo and Hanson piecing together the clues at the crime scene before Henry appearing from behind a bush with his observations was a joy to watch. They must be wondering why he is always right!
Officer Dunne was one of the most annoying guest characters. He was so full of himself and the way he wouldn't shut up about his "fast" car made him an instant suspect to me. When it was confirmed he was the killer, It was so freaking annoying. The guy had a decent job but, in the end, he just got greedy and wanted more. Basically he was taking a cut of the insurance money for the stolen diamonds. He thought he'd get away with it because he was a cop. He wasn't even a good cop! 
So... we finally got to see the vulnerable side to Jo. It must have been horrific going through the police tapes with Sean in them. It is evident he is still the love of her life. This all very understandable considering his untimely passing. He seemed like a decent guy. Having him as the DA who was helping Aaron turn his life around three years ago was an interesting development. It tied into the case very well, even if the case was a weak link. It really was heartbreaking to see how cut up Jo was. 
Henry: It must be hard. I mean, not the gum. Seeing him. Feels like it's real for a moment. Like you can talk to him.
Jo: I just got caught off guard for a second.
Elsewhere, Hanson took a bullet. Thankfully, it wasn't fatal. Hanson's presence this week was really good. He didn't appear as one dimensional as he has appeared throughout Forever Season 1. This is, in part, due to the way he looked out for Jo when she was watching the videos. Oh, and we found out he has kids! Hopefully we get to see his home life soon. 
Sorry, not used to working with the living.

Lucas
One of the more enjoyable scenes was the car crash. It really showed us how much Henry had learned since becoming immortal. When he told Jo to crash into the barricades, it's doubtful anyone actually thought she'd die. This also showed how much she trusts Henry. Would anyone willingly crash a car at 60 miles per hour just because someone says it will be fine? No? Me either. 
Abe wasn't as involved in the case as much as normal – hooray! His subplot with the stolen horse was fun. He sure was gob smacked when the boy he suspected of stealing knew more than him about the antiques, wasn't he?
"Diamonds are Forever" was an okay episode, if a little disappointing. The case let it down. The case was used to give us more insight into Jo's husband Sean, but it all came off as a little forced.
Other bits from the episode:
Lucas and Henry reenacting Hanson's shooting was a marvel. The way Hanson looked in disgust at how Lucas held the gun was all kinds of crazy. 
Joanna was notably absent from the episode. It would have been interesting to see her reaction to Jo looking through her husband's tapes. Would she have let her?
How crazy was it that Diego digested a condom full of diamonds?
Do you agree about the case being weak? Do you want to see more of Jo's back story going forward? Hit the comments below.
Remember you can watch Forever online, right here on TV Fanatic!
Paul Dailly is the Associate Editor for TV Fanatic. Follow him on Twitter.