What is special about this show is it's proving to be more than a reason to laugh. Yes, that's the primary purpose. It's a really fun comedy. But in Galavant Season 1 Episode 3 and Galavant Season 1 Episode 4, Galavant learns a lot about himself on his journey.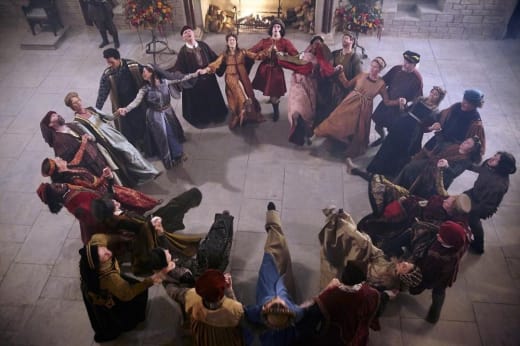 That he is forced to pretend to be something he isn't so early in the series is brilliant, and it shows a completely different side to his character. Galavant is used to being waited on, pampered, and treated like a celebrity. Now, though, the tables have turned, and he is put in his squire's shoes.
Forced, by the way, is the wrong word. The fact is that Galavant chooses to back Sid up by pretending Sid is the knight while Galavant is the squire. He's reluctant, sure, but he goes along with the whole production. In the process, he realizes he's been a pretty difficult person to be around.
He's nothing but a jackass in a fancy metal can!

The Squires
Sid is becoming one of my favorite characters. He can play a joke with a straight face or light up the room in song. And, as Galavant tells him, he's loyal too.
Are you shipping Galavant and Isabella yet? Particularly in "Comedy Gold," the two seem to be developing feelings for one another. Sid even flat out tells them to get a room. They banter back and forth about one another's flaws, including Isabella's snoring and habit of chewing with her mouth open. But when push comes to shove, Galavant defends her habits to the pirate king (played by special guest star, Hugh Bonneville). I love the idea that, on his journey to save the women he thinks he wants, he might end up someone else altogether.
Of course, there's more for Galavant to learn about himself. Isabella's feelings for Galavant make her decide to tell him the truth about the trap, but Galavant wanders off, not paying attention to her.
As mentioned on The Chew earlier this week, Galavant really isn't a hero at all. He's more of an anti-hero, which is another reason I love this show so much. It is challenging the traditional fairytale narrative in almost every way.
The relationship between King Richard and Madelena also challenges that narrative. Madelena has an affair with the jester right underneath the King's nose, and the King is so naive that he doesn't understand how evil he is.
He is completely misguided in his attempts to "lighten the mood" for the Valencians, throwing them a ball where he lights fire to their remaining crops and insisting they dance to music about death (performed by none other than the executioners). It's a scene that is actually uncomfortable to watch, but the dark humor is appropriate and smart.
My favorite jokes continue to be the obvious anachronisms. King Richard pops his mouth and says "is this thing on?" when he tries his hand at comedy, and Sid asks Galavant and Isabella if they've heard of a particular modern expression:
Sid: You know the expression, it takes a village?
Galavant: No, I don't think that's been invented yet.
Even the pirates play along, singing about sustainable farming organic desserts. Hilarious.
So what did you think about this week's comedy extravaganza, Galavant Fanatics? Leave us a comment – we want to hear your thoughts!
Don't forget, you can also watch Galavant online any time via TV Fanatic!
Ashley Bissette Sumerel was a staff writer for TV Fanatic. She retired in September 2017. Follow her on Twitter and on Google+.