The journey continues! Galavant Season 1 Episode 5 and Galavant Season 1 Episode 6 offer plenty of delightful, entertaining moments and a story that is more complex than it may at first seem.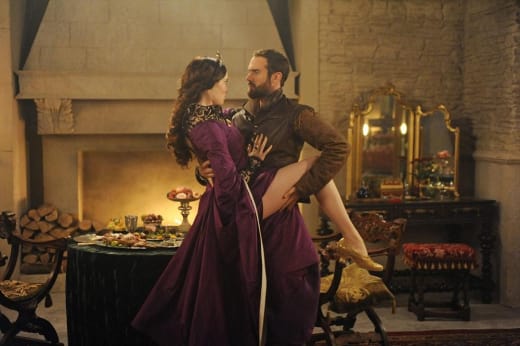 Madalena shows her true colors even more so than she has in previous episodes, proving to be utterly shallow and conniving. She's no damsel in distress, and Galavant soon realizes that when he arrives to save her.
Look around. I live in a castle. And you know what I've learned about myself? I really like stuff. I mean, why would I give all this up to get fat and pregnant and grow my own food?


Madalena
Galavant isn't the traditional hero -- he has flaws. What this show does is to examine those flaws and allow Galavant to learn. His journey to Valencia isn't nearly as important as the journey of learning more about himself. In fact, we see character growth when Galavant refuses Madalena's proposal to be her "boy toy" so that she can have everything she wants.
Still, he has a hard time accepting that Madalena doesn't love him, and we can only imagine what their relationship was like pre-kidnapping.
What we want to hope for instead is for Galavant to find love with Princess Isabella, whose character has, in many ways, helped Galavant to grow. Of course, there is also that pesky detail that she betrayed him.
Meanwhile, Chef has his own story as he tries to woo Queen Madalena's handmaiden. Madalena, thanks to her own plans, sets Chef up on a date with her, offering an almost romantic moment between Chef and the handmaiden as they sing a song about sharing their lives together.
I say almost, because the song about their lives together is pretty darn grim. The song isn't as funny as it is a commentary on class and status, and I think it's an example of why this show is so smart. Of course, their dinner is ruined by Madalena, who takes over the dinner for herself and Galavant instead (the plan all along).
The guest stars in "Completely Mad… Elena" and "Dungeons and Dragon Lady" are pretty fantastic, including Weird Al Yankovoch and Ricky Gervais. Weird Al is a singing Monk who manages to give some useful advice to Isabella, and Ricky Gervais is none other than a magician named Xanax. Unfortunately, Weird Al is underutilized as a special guest star, a pretty big letdown since he was one I had been especially looking forward to.
Overall, it's a good story with some interesting things happening in terms of characters and relationships. I also continue to enjoy the humor and the songs. However, "Completely Mad… Elena" and "Dungeons and Dragon Lady" aren't quite as funny or charming, if you ask me. Perhaps it's because there's a more serious story to tell here, but these episodes are definitely missing something. I very much appreciate the jokes that remind us about time period. Sid's revelation about the zipper? Hilarious. Especially since Galavant and Isabelle think it is a terrible idea.
Sid: You know someone should come up with something around the crotch that would just go zip. You could do your business and be done with it.
Galavant: That is the stupidest thing I have ever heard.
The problem, though, is that these kinds of jokes get old a little too quickly.
What did you think, Galavant fanatics? Don't forget to share your thoughts in the comments below!
Need to catch up before the finale next week? Remember that you can always watch Galavant online right here via TV Fanatic!
Ashley Bissette Sumerel was a staff writer for TV Fanatic. She retired in September 2017. Follow her on Twitter and on Google+.