Girls Season 4 Episode 1 Review: Iowa
Leigh Raines at . Updated at .
Girls Season 4 Episode 1 opened up with scene that directly mirrored Girls Season 1 Episode 1 with Hannah and her parents at dinner.
Three seasons ago, the discussion was more about the Horvaths cutting Hannah off. This time it was congratulating her for taking the next step in her life. Although Adam, despite his tardiness, may have put it most eloquently:
To Hannah, taking her next step through a series of random steps.

Adam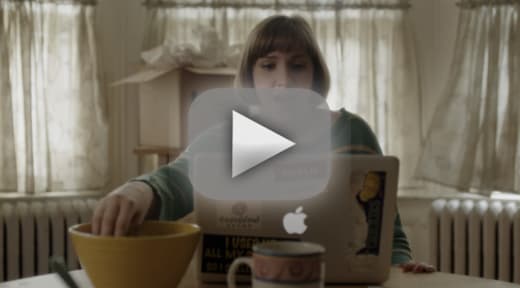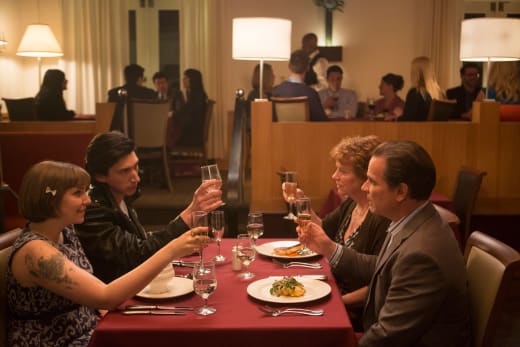 As we witnessed in Girls season 3 Episode 12, Hannah was accepted to a writing program she had applied to secretly a long time ago. Adam wasn't exactly pleased she was about to uproot her life when things had just started going well for him.
It looks like Adam's play has actually been a springboard for a bit of a career. He now has an agent who also represents an actor from the wildly popular The Walking Dead. He may have to take jobs like depression commercials, but hey, that's all a part of starting out, right?
I'm glad it seems like he is going to support Hannah's move after all. During Girls Season 3 it seemed like this could lead to a break up. Although does long distance ever really work? Eh.
Jessa isn't pleased with her best friend's decision to moving halfway across the country after Hannah dragged Jessa home from rehab. How about that great cameo by Natasha Lyonne as Jessa's employer's daughter?
You're pussying out on this whole thing. The thing that we're all trying to do which is make it work regardless of location, right where we are.

Jessa [to Hannah]
It seems like with the growing popularity of Girls, more and more people want to guest star. We also got a glimpse of Ana Gasteyer as Shosh's mother. It's now clear where Shosh gets her neurotic tendencies!
It was great to check in with everyone as Hannah prepared to leave for Iowa. Rita Wilson was back as Marnie's mother. Marnie is still doing music, but cried when kids heckled her. My favorite cast member Elijah was entertaining as he attempted to comfort Marnie. He also always adds some flavor to the drama in general.
Marnie this business is not for sissy bitches.

Elijah [to Marnie]
Let's all just take a moment to acknowledge how delusional Marnie is being about Desi. We were treated to a graphic little sex scene that left Desi saying "I love THAT" and Marnie responding "I love you too." Oy Marn. Come on. Affairs are not cute on anyone. Don't pretend you heard it wrong!
It was great to see her back in her best friend element, though, as she showed up at Hannah's apartment at 6 AM to help her pack. That was typical Type A Marnie and I loved it. 
Next up, we are finally off to Iowa!
Do you think Hannah will make it through her program? 
Vote below, sound off in the comments, and don't forget you can catch up when you watch Girls online anytime!