Oh, Glee. I just can't quit you.
I tried. I really did. I gave up before the Glee season 5 graduation episode and thought I'd never look back. But as it turns out, once the New Directions get in your blood they're there to stay. Forever. Or until the series ends for good as it will in just a few short months.
Glee Season 6 Episode 1 begins with Rachel Berry's fall from grace. She took a gamble on Hollywood and lost. Big time. Since Glee is a story of underdogs finding their paths to glory, Rachel returns to Lima, and that's where our redemption season begins.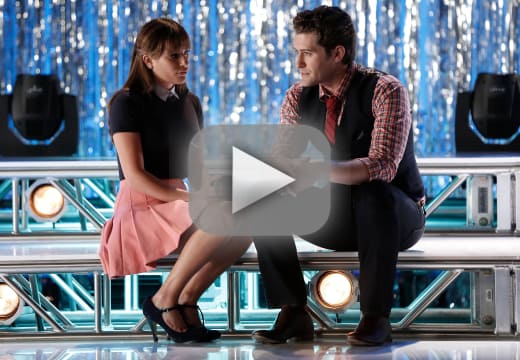 Rachel Berry has lost everything. Her boyfriend. Broadway. Hollywood. Her dads are getting divorced. Her childhood home is being sold. And her beloved glee club is no more. The choir room is a computer lab and Sue's tyrannical rule is supreme law at McKinley High School.
Will has moved on to coach Vocal Adrenaline. Blaine left New York after a break-up with Kurt and he's coaching the Warblers. Kurt is still at NYADA, alone in the city where he and Rachel had planned for their dreams to come true. 
Much must be righted before Glee can end, and based off the hopeful vibe of the premiere episodes, it will be.
It was a little too simple for Rachel to face her humiliation with a good ol' speech from Will Shu, a prod from Blaine, and some honesty from Sam, who seems slightly less dumb so far than he's been written in the past two seasons. (Thank god. Slightly less dumb is actually a win for him.) But that's the Glee way, right? 
Character suffers from or battles with something. Mentor or other wise character gives a pep talk. Character no longer struggles. Wash, rinse, repeat. 
The difference this time is that Rachel really has to confront some serious missteps in her career path and grow up. There's little doubt in my mind that she'll be back in New York and/or on Broadway by the end of the season. But Murphy and Co. might surprise us by having her realize that teaching and glee club are her true passion.
That would feel entirely false to the character, but hey, stranger things, right?
Restarting the New Directions won't be easy. Since Sue has effectively wiped any and all traces of the arts out of McKinley's halls, no one wants to join for fear of being slushied in the face or branded a loser. No one, that is, except Roderick, a transfer from Chicago, and brother-sister duo Cheerios Mason and Madison.
Then there's Jane and the jock, who will prove to be the show's most interesting new additions.
Jane is the first girl to attend school at Dalton. Her fathers and uncles and grandfathers all attended. She's a legacy and uses legal arguments about discrimination to have herself admitted. She auditions for the Warblers, but they vote to keep their group a brotherhood.
Blaine goes to bat for her with the board, but she decides to transfer to McKinley and join up with the New Directions and Rachel which Blaine takes personally as he believes Rachel recruited her. She didn't, but in Jane and Rachel's defense, Blaine DID send Jane to Rachel to practice her audition number in what was a stupid, stupid move.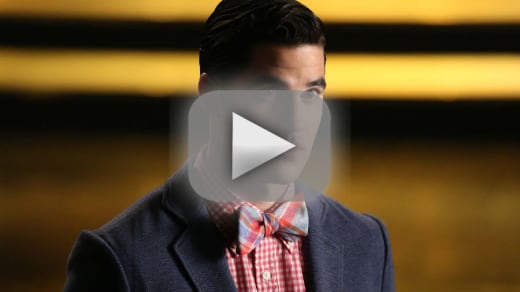 Spencer is "post-glee club gay." He's intimidating and kind of a jerk. People don't mess with him and he doesn't allow himself to be pushed around, even by Sue who, in what has to be one of THE MOST inappropriately awkward and uncomfortable scenes in Glee history next to that throwaway line about Brittany and Santana scissoring that has ever taken place.
Sue offers Spencer many items if he'll be her latest spy. He refuses and says that if she wants to buy him, she'll have to come at him with better toys than that. 
As it turns out, the kid can sing, and by the end of the two-hour premiere, he's staring down a New Directions sign-up sheet and singing along to the musical number taking place at the time. ("Home," but not Phil Phillips "Home"...)
With that, Rachel has a group of five, just like Shu had when it was Rachel, Finn, Mercedes, Artie, and Tina in the very beginning. There's even a nice throwback to the signature ensembles the glee club first wore when they sang "Don't Stop Believin'" as the new glee club dons McKinley High colors for a bonfire at their Homecoming festivities. 
The parallel moment was a nice touch for a season Ryan Murphy has declared a return to the roots of the show.
Elsewhere in the episode:
Will and Emma had a baby during Glee Season 5. Will has the baby at home, but Emma was nowhere to be seen. What happened to Emma Pillsbury Schuester?
Kurt and Blaine broke up over...Blaine not arguing with Kurt? Kurt thinking they're too young? They ARE young and it's not like they won't get back together.
Blaine will have to break up with his current beau first. He's dating DAVE KAROFSKY. It's clearly a rebound. Blaine is clearly not that into him. It's weird. 
Kurt returned to Lima to get Blaine back and ended up staying to help Rachel with glee. Somehow he's getting college credit for it.
The former New Directions members returned on Glee Season 6 Episode 2 to help Rachel and Kurt drum up new members and while it was nice to have them, it felt superfluous. It's clear they won't be a regular part of the season moving forward, so maybe it was supposed to be goodbye. Meh.
Puck DOES look good in uniform.
Despite the "meh" of the return of Puckerman and Santana et al, by the end of the premiere, I found myself smiling along and almost happy that Glee is back. I hesitate to say that "Loser Like Me" and "Homecoming" felt like old Glee, because truthfully, it felt like anything but, and that shift is what Glee needs for its final season. 
The emphasis of the series has always been on Rachel, at times focusing on one or two of the other characters, forever relegating Tina to the background, but Rachel is the star of the show, now and always. 
Here's hoping she's more successful this time around than she was with That's So Rachel.
What did you think of the premiere of Glee's final season? Are you ready to see what Rachel can do with the New Directions? Will she return to Broadway or stay in Lima? 
If you missed tonight's two-hour premiere, remember you can watch Glee online!
Miranda Wicker is a Staff Writer for TV Fanatic. Follow her on Twitter.