Hart of Dixie Season 4 Episode 4 Review: Red Dye #40

Amanda Steinmetz at . Updated at .
It was a classic case of whodunnit in BlueBell!
While the case of who poisoned Shelby was closed, the case of Lemon's and Lavon's relationship remains open.
Hart of Dixie Season 4 Episode 4 was the least Wade-Zoe centric so far this season by focusing on the eccentric townspeople and Lavon's and Lemon's struggle to connect.
Let's get the Wade and Zoe stuff out of the way first. 
Since our favorite doc is pregnant, the show fast forwarded six weeks to find Zoe and Wade still hiding their reconciliation from everyone. I understood Zoe's hesitation, but I have a feeling she also liked the idea of sneaking around. 
Thankfully she came clean to everyone, even though she was naked under a tablecloth. While we didn't get much from Zoe and Wade this week, their scenes stuck in the back room were funny.
Wade: This is insane.
Zoe: People all over the world pee in buckets.
Wade: I will still love you if I see this, but it may take me a while to recover.
It's nice to see these two on the same page and happy. Even though I'm sure we'll be seeing some struggles as they move through this pregnancy, I have no doubt in my mind they will remain a team. 
Sadly for Lavon, Lemon won't give into her feelings for him because of Annabeth. It was sweet that Lavon tried to help Lemon and expressed his love so clearly, but Lemon loves and cares about Annabeth's feelings more than her own.
It's sad but also wonderful to see Lemon care for her best friend like this. The Lemon we met four years ago was a very selfish person. I wonder if Lemon would do the same thing had this all happened back then. 
Unless Annabeth steps aside and gives her her blessing, I doubt Lemon will do anything about her love for Lavon. 
Aside from the Lemon-Lavon relationship drama, this episode showcased the absurd side characters we've gotten to know. Tom and Wanda were as cute as ever, and Sheriff Bill finally found a crime he could milk for all it's worth. 
The interrogation scenes were fun to watch. 
Lemon: For the last time, I did not put red food dye in Shelby's sweet tea, or her breath mints, or her stage makeup.
Sheriff Bill: But you hate her.
Lemon: So, I'm a southern lady. My methods of warfare are purely psychological.
George's storyline felt tedious. Although, I must admit, I really liked George and Tansy together as a couple so I didn't care for George saying he had no leftover feelings for her. Tansy's brothers were the least interesting aspect of the hour.
While I find Shelby's personality to be mostly grating, I thought her desire to get Lemon to like her was very sweet. I don't think Shelby wants to be a mom to Lemon, but she definitely wants to be her friend.
The whole "whodunnit" storyline was absurd. There's no way they could test those chocolates in a mere couple hours, solve the case, and still have time to do the talent show.
Wade: Since when are radio plays fun?
Zoe: Since this is a mystery, and Wanda is the leading suspect. NCIS: BlueBell.
Am I mad about this? Not really. I can forgive the show for its zany plots and characters because I always thought of Hart of Dixie as the slightly bizarre, more unrealistic cousin to Gilmore Girls. A small town full of weird, lovable people doing weird, lovable things.
Or maybe I'm only making the comparison because they use the same town square as Gilmore Girls did.
So over to you guys! What did you think of Lavon's declaration of love to Lemon? Should Lemon tell Annabeth she loves Lavon too? Who's your favorite citizen of BlueBell other than our main characters? Sound off below, and don't forget you can always catch up on any missed episodes when you watch Hart of Dixie online via TV Fanatic!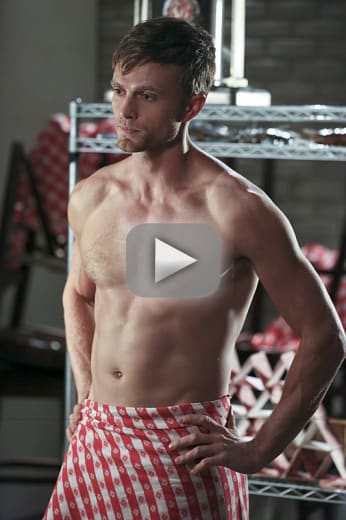 Amanda Steinmetz was a staff writer for TV Fanatic. She went into retirement in June of 2027. Follow her on Twitter.