Lucky me: I get to substitute for regular reviewer Amanda Wolf for Hawaii Five-0's first new episode of the year, and I sure got a treat!
A young woman comes to the big city with dreams of becoming a star, only to fall into prostitution that ultimately leads to a grim and tragic end. The plot for Hawaii Five-0 Season 5 Episode 10 sounds almost like it could have come from one of Raymond Chandler's hard-boiled detective stories.
Even the title, which translates to "Broken Dreams," sounds like it could be the name of one of the old private-eye tales.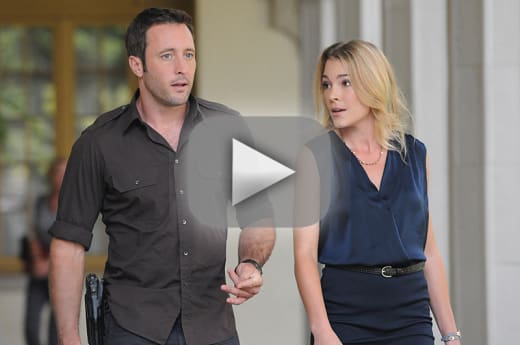 Private investigator Harry Brown could just as easily have been cast from the Philip Marlowe mold, too, though Harry isn't quite so cynical as the typical hard-boiled detective. Veteran film and television actor William Forsythe is probably more well-known for playing villains, but he brings the perfect energy, intensity, and grit to the character. Harry gives some great voice overs throughout the episode, lending it a distinct pulp-fiction feel:
[voiceover] The American dream - some find it. Others don't. Then there are the unlucky few who die trying. This gal was one of those.

Harry Brown
Harry made a very enjoyable guest star, a sort of old-school counterpoint to a lot of the bright and shiny youth and glamor that surrounds the series. Harry made the key break in the case that led the team to Eric Roberts's character, using little more than ingenuity and street smarts, rather than computers and technology.
It all made me think a bit of the original Hawaii Five-O, the one with Jack Lord (yes, he of the plastic hair that wouldn't twitch in a typhoon). I rather imagine that this would be how the two Steve McGarretts would have played off each other should there be some massive tear in the space-time continuum.
[voiceover] But the one bright light in all the darkness is knowing that men like Steve McGarrett are out there to make sure that the good guys always come out on top.

Harry Brown
There were numerous personal moments scattered throughout the episode. My favorite was probably Kono's breakfast, left lovingly by Adam (who had an early meeting and therefore conveniently didn't appear in the episode!). Despite the fact that Adam wasn't seen in person, his presence was definitely felt in that moment.
Ellie's appearance was a bit more, shall we say, heavy-handed? I think that they may be trying a bit too hard to make her The Perfect Match for McGarrett while making a token effort to show they're Friends Not Lovers while Steve (and the viewers) are still smarting over the way Catherine Rollins left.
Mindy Shaw, Max's trainee medical examiner, got a little front-and-center treatment here. I was actually a bit perplexed at just how much time she was given in this episode. She had far more screen time than Max himself! I'm not sure where they're going with the character, but personally I'd rather they didn't build her up at the expense of the main cast, with whom I have far greater emotional attachments.
In terms of the main plot, I fingered the fiancee's father as soon as he popped up. In my episode notes, I literally wrote, "Fiancee denies wrongdoing – was it the father?" This is a prime example of Ebert's Law of Conservation of Characters (which is actually a derivative of the principle of Chekhov's Gun). It boils down to the fact that they generally don't introduce characters that aren't somehow going to be important later on.
Given that the fiancee's father wasn't immediately essential to the plot at that point, I pretty well instantly figured that he was probably the murderer. Eric Roberts's character had to involved as well because, you know, Eric Roberts! Seriously.
Speaking of Eric Roberts, he seemed criminally underused in this episode. He was in, what, maybe two scenes? Not that I begrudge William Forsythe any of the guest star screen time, mind you, but couldn't they have given Roberts a little more to do?
In any event, despite its flaws, I found "Wāwahi moe'uhane" a very enjoyable outing, principally for Harry Brown and his take on events. While it would be a bit much to do it more often, it made for a fun one-time twist.
What do you think, TV Fanatics? Did you enjoy the hard-boiled detective feel to the episode, or did you find it overdone? Did they focus too much on Mindy? Are they trying too hard with Ellie and Steve? Let us know in the comments below!
Remember, you can catch up on previous episodes when you watch Hawaii Five-0 online right here at TV Fanatic!