It's Always Sunny in Philadelphia Season 10 Episode 1 Review: The Gang Beats Boggs

Narsimha Chintaluri at . Updated at .
The minute the episode opened up with The Gang at 9:30 AM on a Thursday, standing in line while boarding a plane to California, crushing beers, wearing white shirts tallying up god knows what – I realized why I love this show all over again. It's batsh*t crazy. 
Even though it's already swerving its way its tenth season, It's Always Sunny in Philadelphia Season 10 Episode 1 marks the return of a consistently hilarious cast, and smart yet borderline reckless writing.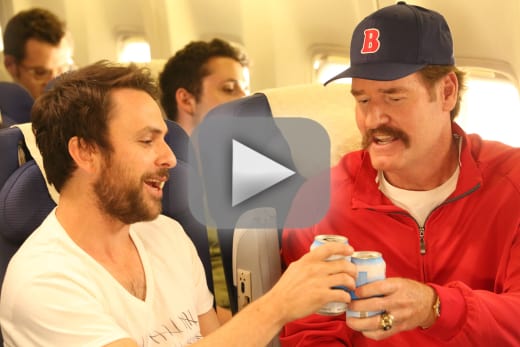 Assuming you've already heard of the man, the myth, the former third baseman for the Boston Red Sox who supposedly drank 107 beers leading up to a game in which he did quite a bit better than any human being should have after the night he had, the episode dives straight into the hijinks. 
Having supposedly drank "40, or 60, or 70" beers on the cross country flight, Boggs was The Gang's idol for the night. 
First off Wade Boggs is very much alive.

Mac
Oh, yes, he's very much alive – and his cameo as Charlie's hallucination was great. And according to Charlie Day (who's ridiculously talented at playing drunk as always) on The Tonight Show with Jimmy Fallon, Boggs was actually drinking a beer while they were filming. 
The Gang had a lot to live up to.
And, hey, it's not like Boggs has/had a problem or anything – he doesn't drink because he's an alcoholic:
He just did because he was thirsty, and he had to pass some time.

Charlie
The entire Gang had their moments throughout tonight's premiere. 
Dennis got on his weirdly rape-y/stalker-y vibe as usual as he scouted out potential partner's for his "mile high club." 
During the turbulence, she giggled - leads me to believe she's a thrill seeker.

Dennis
He may have stolen Frank's prospects, but he also ended up getting off when the plane landed for a layover in North Dakota. Neither of the men really won that day. 
Frank drank himself into stupendous stupor, but before he was out of the game, he managed to cause more than enough damage. Along with Dennis, they tried to order all the beer on the plane, he gave another passenger sleeping pills, and he pretended to be a doctor (and pilot) in order to save him. 
His meltdown was magnificent:
They say I can't drink on a plane. They say I can't bang on a plane. They say I can't be a doctor!? A pilot?!

Frank
Even though Mac was acting commissioner, relatively not as drunk, he still had plenty of great scenes. From stopping Charlie from ordering "8 rum and cokes," to bringing entire suitcases full of beer, which he has access to through his "secret hatch" that Charlie claims "everybody" knows of – Mac was trying to play interference all night. 
Oh sorry, let me explain. We're doing a Wade Boggs type thing, and that makes me sort of the Bud Selig of the group.

Mac
I almost died of laughter at the end of the episode when Charlie miraculously knocked the ball out of the park (after slurring enough for subtitles), declared that they were in "California, USA," and then turned around with Mac to go get food at the airport and head back to Philly. 
If you're curious about any moments I may have missed, head over to It's Always Sunny in Philadelphia Quotes, and feel free to leave a comment down below! If you're like me, and decide you want to watch It's Always Sunny in Philadelphia online to catch any jokes you may have missed, definitely do so and report back down below as well. 
Here's to a good season!