On Law & Order: SVU Season 16 Episode 10, Rollins finds the closure that's eluded her for the past five years. 
Focused on the ex-Atlanta cop, "Forgiving Rollins" placed Rollins history with Deputy Chief Patton on center stage. All the cards were finally laid bare.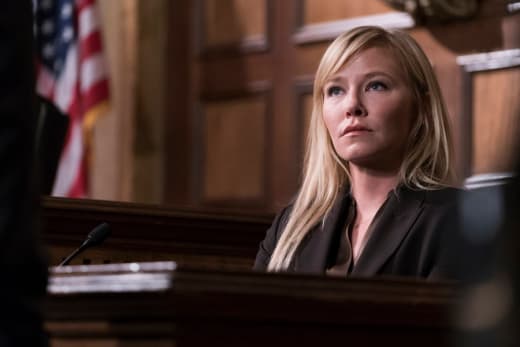 The rape accusation initially came from Reese Taymor, a new budding detective under Patton. However, just as he forced himself on Rollins – he took advantage of his station and sexually abused Reese.
. 
He said, 'don't you know by now, that I don't take no for an answer?'

Reese
Dodds took charge of the initial questioning of Chief Patton, obviously trying to nip the problem in the bud, but even he firmly landed on the side of Rollins by the end of his first encounter with Patton in the interrogation room. 
You ask her about the time she threw herself at me to save her sister?

Chief Patton
Patton was on the edge right from the start – no matter how cool he tried to play it off. 
The back and forth between Dodds and Patton was tense, and had two equally strong personalities colliding.
Fin: Dodds with the good ol' boy routine.
Benson: Pretty good.
Rollins: So is Patton.
I'm glad Reese getting deconstructed by Buchanan made Rollins sympathetic enough to testify herself. Buchanan masterfully to turned every aspect of Reese's story against her – but Barba later matched him in his attack of Patton, which led to Patton's "heart attack"/anxiety attack.  
It's hard to feel bad for Patton though, especially when he makes comments like this:
Oh you gotta be kidding me! That little bitch! Five years after the fact!

Chief Patton
And, what normal person talks like this:
Are you talking about Amanda Rollins? I didn't rape Rollins, or her, or any other of them!

Chief Patton
You sound pretty incriminating Deputy. Justice was served, to some degree, by the end of the episode, so hopefully Rollins can truly begin healing. And she deserves it, especially after watching her breakdown outside of Reese's room at the start of the hour. 
I was ecstatic that she got that gut-punch in there, followed by:
Reynolds: Hey! I will report you!
Rollins: Yeah, you do that. And tell your wife I said 'hello.'
Keli Giddish showed off her acting chops once again, further deepening the character of Rollins. I only hope she doesn't fall off the wagon again. But watching Giddish struggle with her demons certainly makes for great TV. 
Barba and company were all very solid in their supporting roles, as usual. Hamlin's delivery of this insult, was priceless:
I don't know about you or you little spanish dandy, but I'm straight as an axe. Now that girl got just what she wanted, just like Rollins did.

Chief Patton
Head over to the Law & Order: SVU Quotes page for more intense moments from tonight's showdown.
Watch Law & Order: SVU online to follow Rollins again as she fights with her past, and leave your thoughts down below in the comments section!