Man Seeking Woman Season 1 Episode 3 Review: Pitbull

Carissa Pavlica at . Updated at .
No wonder Josh is having such a terrible time bagging a babe.
All the other little boys turned to men and were visited by a wizard, but not Josh! No. As we learned in Man Seeking Woman Season 1 Episode 3, that pointed-hat wearing, long-white-beard sporting bastard apparently skipped past Josh.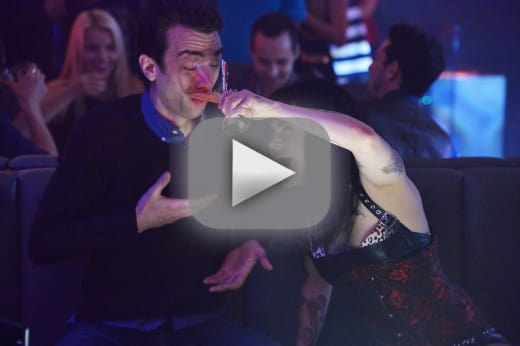 Yep, when you're out there traversing the dating waters and failing at every turn, it probably wouldn't surprise you one damn bit to learn the secret of your best friend's success, as well as that of the fat bastard in the bathroom struggling with condom machine as well as the other puking beside him – all of whom will be going home with members of the opposite sex while you go home alone – comes at the hand of the spiral eyes trick a wizard supplied on the day of puberty; a visit you somehow missed, as if Santa Claus missed your chimney.
As with all things that happen to Josh, his interpretation of events are usually just a tad off the mark. That's why it's so easy to identify with him, even though I'm a girl.
I was happy to notice he had one female hand (which was not named Rosy...aren't they all named Rosy?) and one male. Once not-Rosy skipped town, the dude ran after her. I can't say I blamed him, although I had to wonder what hand Josh uses to touch other women. Hey, I'm just putting it out there. If not-Rosy gets bored with Josh, maybe seeing a little action from Crystal was just the thing to spice up her life. Why in the hell didn't she pipe up?
That was a beautiful portrayal of what happens after a night of drinking. And cocaine (not that I would know). It's not that guys can't get it up, it's that they can't find the damn thing.
Josh: This is kind of embarrassing, but I lost my dick, so can you just take a look and see if it's there?
Cabbie: I don't see it.
Josh: May, may, maybe it rolled onto the floor...
Cabbie: I see no dicks, my friend.
When they showed the close up, did you actually squirm a little? After the hands ran off, I should have seen it coming, but it was so easy to get carried away in the moment thinking Josh had figured out a secret even without the spiral eyes and maybe, just maybe, he'd have a little something up his sleeve to perk things up.
The perfect answer was for him to march back out to Crystal on the bed, sans dick, raise his right hand and prove to not-Rosy he knew shake things up by giving her a chance to prove how much she wanted that sassier sex life while the two of them took care of Crystal and scored some more digits. Just sayin'.
The best was saved for last, of course, as Mike met up with Josh outside the club as he was waiting for his, ahem, package. He forgot his credit card? Matt's just like all the other guys out there, but too afraid to let down his guard, even in front of his best friend. That's too bad. If he could do that, just for a minute, Josh wouldn't fell like such a loser all the time. Eh, it wouldn't be as funny then, would it?
If you haven't yet gotten wind of the laughs awaiting you, you can catch them when you watch Man Seeking Woman online via TV Fanatic. If you aren't afraid of a little fantasy and some raunchy humor, this has your name written all over it.
Carissa Pavlica is the managing editor and a staff writer and critic for TV Fanatic. She's a member of the Critic's Choice Association, enjoys mentoring writers, conversing with cats, and passionately discussing the nuances of television and film with anyone who will listen. Follow her on Twitter and email her here at TV Fanatic.