On NCIS: Los Angeles Season 6 Episode 13, Sam and Callen get dispatched to Tunisia after a terrorist attack almost takes out U.S. Ambassador Nancy Kelly – portrayed by none other than news anchor Julie Chen in her acting debut.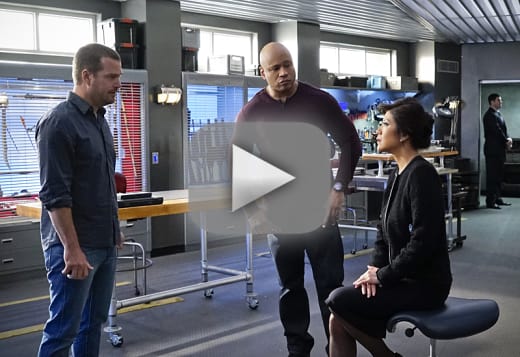 There are actually numerous high adrenaline moments throughout the hour, Sam and Callen infiltrating the crime scene in Tunsia by way of the beach being only one of them. The final scene with the entire team climbing the hoisted ladder, up and over the wall surrounding the compound, and taking a rope down to the ground, was beyond awesome.
The music was pitch perfect at that moment – it was appropriately anthemic, as well as being intense as usual. 
Callen and Sam's radio commands only added to the urgency of that moment:
Charlie Team, execute, execute, execute!

Callen
From the start, "In the Line of Duty" had a great vibe to it. It wasted no time in getting right into the action – with the terrorist attack almost placing Harris, Kelly, and Beck in the hands of enemies. Julie Chen, not playing herself as a news anchor for once, served her role as Ambassador Kelly with grace, and was better than most side characters usually are. 
As far as the main cast goes, LL Cool J delivers another solid turn as Sam Hanna – always being dealt an emotional hand. His scene with the CIA agent is another testament to the character, as well as the actor, with this one line being so powerful:
Don't look at him, look at me.

Sam
Kensi and Deeks also got a plenty of back and forth tonight. From Sam flipping Deeks teasing about him and Callen into a conversation about Kensi and Deeks, to their own cute old-couple bickering when on the case together, there was a lot of harmony in that area this week. 
The small things like Kensi saying she'll "always" have his back, to Deeks commenting on how messy she is – I'm glad things are looking well on this front. 
Deeks: You don't have an appreciation for vintage animation
Kensi: By vintage animation, do you mean old cartoons?
The goodnights from Deeks were also a funny touch at the end, allowing Sam to end the episode perfectly: 
Shut up, Deeks.

Sam
The backdrop of Commander Harris's death set a pretty grim tone for the episode, but it was soon back to usual with the humor thrown in sparingly, in between the tense rescue missions this time around. There were also a couple cool moments of upgraded technology. I'm a bit dubious about the strength of the 3-D printing technology, but it sure was exciting to see the entire crime scene being recreated – down to the most minute detail hidden inside the palm of someone's hand.