State of Affairs Season 1 Episode 9 Review: Cry Havoc

Carissa Pavlica at . Updated at .
The girl next door has been activated!
And, the girl next door is no longer a threat. State of Affairs Season 1 Episode 9 was brilliantly woven through time and had my head spinning. Even as the clues were dropping, they weren't as easy to catch as you might think and it made for a very fun romp.
Yes, that's right. Terrorism and fun in the same review. Get over it. State of Affairs becomes more enjoyable every week and it plagues me more people aren't in on the action.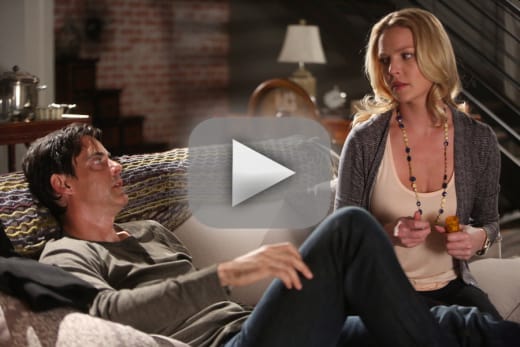 How all the plots finally tied together during "Cry Havoc" made so much sense. It was a tease and then an "aha!" and a tease and another "aha!" and every moment outdid the next. While teases can sometimes become overwhelming, these worked because they were all paced so well that just as you started to feel fidgety the reveal came. 
In the opening, I totally bought that Stacy Dover blew herself up. When the feds thought there wasn't enough evidence to bring her in, I was shocked. Even when Navaro later went to the house, I realized had been paying attention to so many other things when Stacy exploded I failed to put it together.
David was rather smug when Constance refused to overrule the feds on bringing in Stacy because bringing in every kid under similar circumstances would be ludicrous, but as it turned out Al Moosari was using a listserv connected to Instagram to activate kids like Stacy. Can you imagine the crazy that could possibly inspire? The montage of grabbing kids off their couches was rather alarming and incredibly frightening. Kids' brains aren't well developed enough to make those kinds of decisions yet. They still think they'll be Batman someday; or The Joker.
Meanwhile Senator Green enlisted Kurt to tail Charlie because she got her hands on the photo of Charlie, Nick and Fatah. She wanted Kurt to find out if the CIA had a hand in killing Aaron. Kurt was always sweating because he was the mysterious texter. Marshall confronted Constance and it was all kinds of ugly, but POTUS had her head in the game. She pointed Charlie at her own people.
Do you trust your team? [Charlie nods] You shouldn't. Everyone lies, Charleston. It's always those closest to us whose betrayal we can't see.

Constance
Unfortunately, everything came together too late. Stacy blew herself up in front of the CIA safe house where Navaro was meeting with Green over her knowledge about the photo and what she did to Charlie. On her way out, she caught the action and met her demise.
Charlie was freaking out at the fact Fatah just enacted a suicide bomber on US soil, but she had too many negative Nellies talking in her ear lately, Nick Vera included. He had just witnessed Fatah kill Al Moosari to get access to Moosari's listserv info, which he carried on him at all times. Charlie turned Fatah on the ship. He had been her asset all along. He really did want to be a liberator and wants no part of war. He gives to Nick their first real photo of Sheik Hakam and an upcoming meeting is planned.
Navaro is touch and go. Lucas' drinking was out of control, but since Navaro trusts him, Charlie is helping him dry out again. He'll be Navaro's de facto proxy until Navaro either gets well or doesn't.
David's decidedly soft line with POTUS about Stacy Dover early on took a hard turn later when he decided what the country needed wasn't her compassion, but a soldier.
Military strategy wasn't a prerequisite of me getting my job. It was for her.

David
He can be a pain in the ass, but he can admit when he's wrong. Tough is good. 
The search is on for Sheik Hakam. He's number one in the book and it's going to be hard to jump over him any time soon. Marshall should be simmered down just a bit about Aaron since terrorists really were in his back yard and the asset Charlie turned helped reign them in. Whether he'll ever know that doesn't really matter. Constance will be feeling stronger for knowing Charlie was right.
Remember meeting Victor Gantry in State of Affairs Season 1 Episode 7? Well, he appears to be recruiting Kurt. If he's after Kurt, then no good can come of either one of them. They must be surfing some middle ground, volleying between the good guys and the bad guys wherever the leverage makes the most sense. It will be interesting to see what comes of it. Will Kurt's old school pal return? Of course.
Hit the comments with your thoughts. This was the strongest outing of the series yet. What do you hope to see as the first season draws to a close?
If you've missed any of the action, you can watch watch State of Affairs online via TV Fanatic!
NOTE: State of Affairs Season 1 Episode 10 will be titled "War at Home" and air on January 26.
Carissa Pavlica is the managing editor and a staff writer and critic for TV Fanatic. She's a member of the Critic's Choice Association, enjoys mentoring writers, conversing with cats, and passionately discussing the nuances of television and film with anyone who will listen. Follow her on Twitter and email her here at TV Fanatic.