Switched at Birth Season 4 Episode 4 Review: We Were So Close That Nothing Use to Stand Between Us

Samantha McAllister at . Updated at .
Switched at Birth Season 4 Episode 4 left us all rather speechless in the final moments and all we could do was wonder what is going to happen next. 
Things are definitely on the verge of changing and our favorite characters are being thrown into some serious storylines. 
Lets just dive right on into what happened tonight.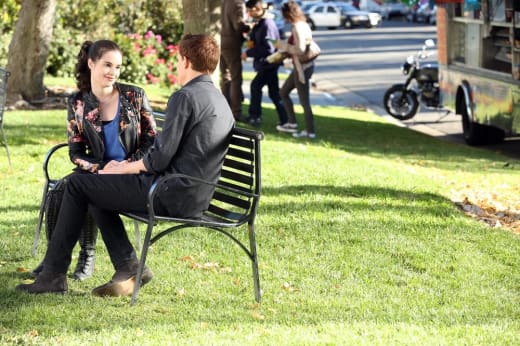 So apparently we are having a little time jump and Bay is no longer on house arrest – no complaints from me. Honestly there is only so much they were going to be able to do with Bay only being allowed in her house; though I did hope with her being stuck at home she would maybe find herself a little more and really figure out what she wants out of life.
I was happy to see Emmett being there for Bay when midnight rolled around and she was officially off house arrest, but I was surprised no one else was with her. Bay deserved a freaking party for taking the fall for Daphne but when she was finally free, only her boyfriend showed up.
Did anyone else find it odd Emmett never told Bay about Skye? Emmett has always been pretty open with Bay and you would think during one of their countless conversations Skye's name would have popped up at least once. By the way Emmett you need to tell your girlfriend when another girl kisses you – like right after it happens.
You have to love how involved John is getting with Travis trying out for the baseball team. Travis has so much potential and has learned throughout the last few seasons that him being deaf is not going to keep him from doing what he wants to do. 
Don't let the deafness throw you Coach.

John
While I get where Melody was coming from she was way out of line going to John and basically talking down to him. Travis is now an adult and he is able to make his own decisions and, while he may have struggled in high school, this may be a chance for him to truly shine. He needs people in his life to support him.
Professor Marillo may be one tough teacher, but I find myself loving her every single time she is on. She isn't trying to be mean or even trying to scare her students she is simply being honest with them. This is not an easy profession to get into and if you aren't able to even make it through a tough class, chances are you are not going to make it out in the real world.
I really can't believe Regina used the deaf card when she talked with Marillo. Regina's heart is in the right place and we all know she is trying to help Daphne out, but it was still a little out of line. Though when Daphne started to go off on Regina I wanted smack her – lay off your mom, she was just trying to help you out.
I may be the only one, but I am really looking forward to hearing Kathryn's musical. Who else laughed when Toby said musicals weren't his thing? I had major flashbacks of High School Musical.
They are finally going to cut the strings on Toby and I never thought I would see the day. In all seriousness Toby is a great guy and I agree he should go after his dreams, but he is not in the position to not take a paying job.
Kathryn: He just doesn't seem worried about supporting himself, I mean at all.
John: Kathryn, I hate to break this to you but this may be the child that we raised. We've always provided for him.
Kathryn: I think it's time we cut the strings.
John: What have you done with my wife?
When Josh talks about his home life it just makes me want to learn more about him. It seems every time he mentions his parents it's not a great memory for him. I really hope they delve into his character more this season. 
They wrapped up the hour rather well by giving Toby the reality check he needed and also having him joining the musical – which wasn't a surprise; though it was funny when he admitted he never read Kathryn's book. Daphne apologized to Regina and all ended well with them. Of course, we all knew what the final scene would be – Bay waking up naked in bed next to Tank not having any recollection of what happened. 
We won't even get into the previews for next week except to say I am surprised they are going to go there especially with a character like Tank who has always seemed like a pretty decent guy.
What did you think of tonight's episode? Do you want to hear more about Josh? What do you think is going to happen next week?
Don't be left behind, go watch Switched at Birth online now via TV Fanatic.
Samantha McAllister was a staff writer for TV Fanatic. She retired in November 2018.