To date, The Good Wife Season 6 has shaken things up for everyone, including fans, who are watching a different kind of series this year.
For the most part, writers have gotten away from a case of the week, focusing instead on Alicia's race for State's Attorney and Cary's mounting legal woes. The winter finale left things hanging in the balance for Cary, who accepted a plea deal and appears to be headed to prison. 
How has The Good Wife measured up thus far? Is it still one of the best dramas on television? Check out the midseason report card and don't forget to grade it yourself below!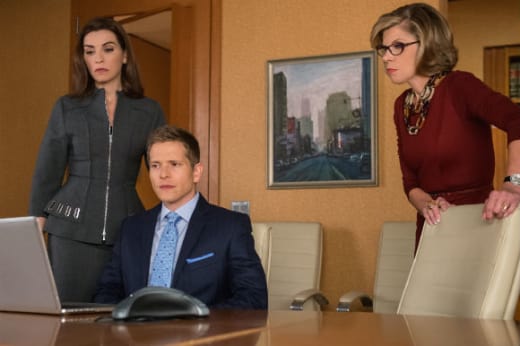 Best Episode: The Good Wife Season 6 Episode 4 Oppo Research by a long shot! We met Johnny Elfman and laughed along (and drank some wine) with Alicia as Eli and Johnny shared with Alicia all the skeletons in her closet. It was witty, showcased Julianna Margulies at her best and set the stage for her State's Attorney run.  
Worst Episode: The Good Wife Season 6 Episode 6 Old Spice was an odd one. The episode gave us an inside look into Elsbeth Tascioni and it was scary. The episode was a little all over the place, and I didn't find myself getting too invested in the storylines of the night. 
Best Case: In The Good Wife Season 6 Episode 3 Dear God, we learned about the Matthew Process. Alicia and Dean were taken out of the normal courtroom scene and worked with an arbitrator to resolve a dispute between a seedmaker and his neighbor. Since there haven't been too many cases this season, it was a nice change of pace from the courtroom drama, and some funny moments ensued. 
Best Quote: Alicia has always had some great one-liners for Peter, but this one from The Good Wife Season 6 Episode 9 takes the cake!
Zip up your pants, shut your mouth and stop banging the help.

Alicia
Biggest Shock: I may be cheating here, but early into Season 6, we found out that series regular Archie Panjabi (or as we know her, Kalinda Sharma) will be exiting the show after Season 6. After losing Will Gardner last season, the thought of another series regular leaving was hard to swallow for Good Wife fans. Theories about how she will exit the show are swirling around, but if Will's surprising death was any indication, the writers will keep us guessing until the very end. 
Best Guest Star: Season six has been a star studded parade of guest stars, but David Hyde Pierce's return to television has been great. He's proving to be a formidable opponent for Alicia in the run for State's Attorney, and I think the jury's still out on whether or not he is truly a good guy. Can't wait for the debate! Honorable mention to Taye Diggs who followed Diane over to Florrick, Agos & Associates. 
Hopes for 2015:
They come up with a creative way to keep Cary out of prison. 
They don't kill off Kalinda Sharma. Hopefully, they leave it open ended so there is a chance for her to make an appearance next season.
Diane Lockhart gets some more screen time.
Alicia gets some romance back in her life.
While I miss a weekly new case, The Good Wife is still one of the best dramas on television today. The writers continue to reinvent the show and with so many unanswered questions left before Season 6 wraps up, it's sure to be a great few months. I''m giving The Good Wife an A- for the first half of  the season (a few more cases and I'd give it an A+). Sunday at 9:00pm can't get here fast enough!
Sound off in the comments below and let me know what your favorites have been so far, vote in the poll and watch The Good Wife online if you need to catch up.
What midseason grade would you give to The Good Wife Season 6?
Krystal Sondel is a staff writer for TV Fanatic. Follow her on Twitter.