On The Good Wife Season 6 Episode 12 Frank Prady and Alicia Florrick faced off in the debate for State's Attorney. Tonight, though, was about so much more than a debate. 
Sometimes, a television show crosses the lines of fiction and presents facts that need to be debated. Not in a fictional debate with two candidates for a State's Attorney race, but a real debate that is playing out in our country today.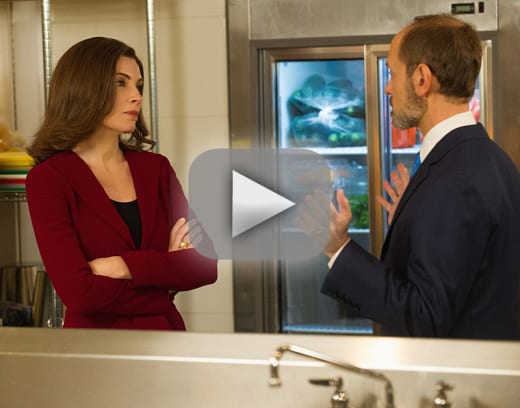 As I watched tonight's episode, I felt proud to be a fan of The Good Wife. I think it's important for our favorite television shows to bring up factual topics, and I commend The Good Wife writers for doing so. It's not an easy topic to handle because it brings up so many powerful emotions, no matter what side of the debate you fall on. 
Those questions are what make the placement of the State's Attorney debate tonight so genius. We need to debate. It's important to debate; even if most of the time we agree like Frank and Alicia seem to. It's what makes our society better. Because, while so many times an issue is black and white (and I use that phrase on purpose), there are many times when it's not.
Being able to take a side, to have an opinion, is what it's all about. So educate yourself, find what matters to you, and be open minded enough to hear the other side of the debate, too. 
But let's get back to the fiction. Peter dealt with the potential riot, and used it as a way to make himself look good, amidst another potential sexual scandal with Ramona (insert eye roll). It all worked out for Peter in the end, as he stood beside Cole Willis' wife and spoke in front of the rioters. 
Speaking of Peter's affair with Ramona, it was the first question a reporter asked Alicia during the debate, and she handled it perfectly. I was absolutely stunned that she cut off the reporter and was nearly clapping when she hit the nail on the head – what the heck does his affair have to do with how she will prosecute criminal's in the State's Attorney's office? 
The best part was watching Alicia and Frank grab a loaf of bread and some cheese and eat together in the kitchen. It gave them a chance – behind their campaign managers backs – to debate one-on-one. Their off-camera debate felt so genuine for these two and has me leaning more towards Frank Prady really being a good guy. 
As things wrapped up, we started to see a clear divide between the partners at Florrick, Agos, Lockhart & Associates. As Alicia was left out of the decision to bring David Lee in to the firm (which is going to be a lot of fun), Diane gave Alicia some pretty hard real talk – and told her that she didn't bring the rest of the partners in on her decision to run for State's Attorney. Throughout the season Alicia has been asked numerous times why she was running, and all the reasons she previously gave didn't hold up anymore. 
The truth is – it's about ego. Alicia believes she can win. It isn't about Castro or Cary being charged with something he didn't do; it's because she believes she can win. So – game on. She's confident now. Maybe more confident in her chances than we have seen her be all season.
Things ended up working out for Cary; will they work out for Alicia, too? I think they will, but it's open to debate!
Other quick thoughts:
Grace is looking quite grown up these days! I'm happy to see she was there supporting her mom at the debate. 
Johnny Elfman has feelings for Alicia. His expression as she told him the kiss didn't mean anything broke my heart. Will his silence start to change how Alicia feels about him?
Pastor Jeremiah and Pastor Isaiah were back tonight along with Neil Gross and his soon to be ex-wife. It was great to see them all on the screen again, and I love that The Good Wife brings many of its characters back in future seasons. Too bad they can't bring Will Gardner back. 
It's hard to believe we are more than halfway through season six! Don't forget you can watch The Good Wife online, and catch up on any episodes you've missed!
Now that Frank & Alicia are done debating, it's our turn. Do you think Diane & Cary were right to hire back David Lee without speaking to Alicia? Is Diane right that Alicia should have talked to them before deciding to run for State's Attorney? Comment below. I'm looking forward to a spirited debate.
Krystal Sondel is a staff writer for TV Fanatic. Follow her on Twitter.